Say goodbye to dull and lifeless veggies on your plate with this innovative Air Fryer Asparagus Recipe, and get ready to savor a burst of flavors in every bite.
Why I Love This Air Fryer Asparagus Recipe
Asparagus is a nutritious vegetable that's low in calories and packed with vitamins, minerals, and antioxidants. Air frying requires little to no oil, making it a healthier cooking method compared to traditional frying.
Air fryer asparagus is relatively quick, you can make a delicious and healthy side dish in just 7 minutes. It's the best recipe for busy individuals.
And, this recipe provides a combination of fresh asparagus, tangy Parmesan vinaigrette, and the crispy texture achieved from the air fryer can create a delightful taste experience. The savory flavors of Parmesan and the natural sweetness of asparagus complement each other perfectly.
Ingredients For Air Fryer Asparagus
For this amazing combination that makes asparagus pop, you will need fresh herbs, red wine vinegar, Dijon mustard, honey, Parmesan cheese, and salt and pepper to taste. This elegant blend of ingredients makes the asparagus stand out and accentuates the natural richness of the asparagus.
Asparagus has an umami flavor because of the amino acid called aspartate. The best thing about this flavor profile is that it can be highlighted in a number of ways. This recipe includes the best elements to accent the umami flavor while also adding a unique twist with the honey.
The acidity from the vinegar plays well with the sweetness of the honey and the nuttiness that comes from the parmesan cheese. The Dijon mustard adds just the right amount of tanginess to make this dish unique.
How To Trim Asparagus
The woody part of asparagus needs to be removed before cooking. You should trim off ½ inch of the white end. Sometimes the woody part can be purple, but make sure you trim off enough so that only the green part is cooked.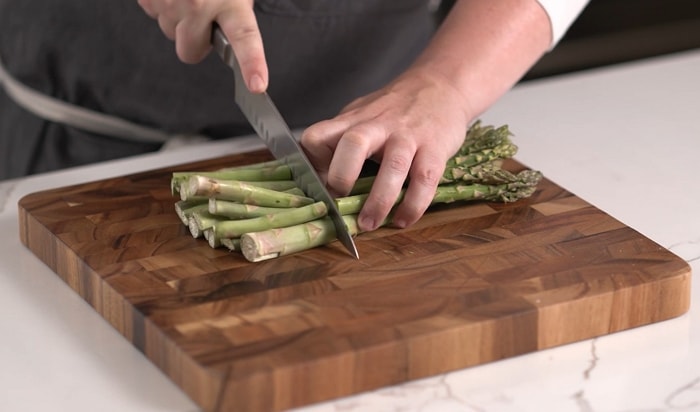 How Long to Cook Asparagus In Air Fryer
When cooking asparagus in an air fryer, the cooking time will depend on the size and thickness of the asparagus spears.
As a general guideline, preheat your air fryer to 420°F to cook it for 7 minutes.
It's essential to note that air fryer models can vary in temperature and cooking efficiency, so it's best to monitor the asparagus while it cooks. For this recipe, we recommend using the Typhur Dome large air fryer to ensure even cooking in a single layer.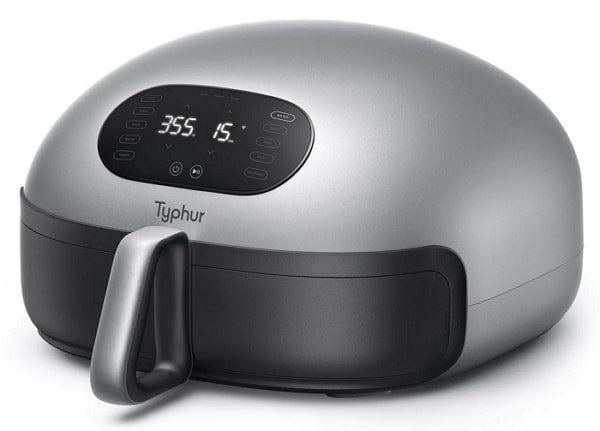 To check for doneness, pierce the thickest part of the asparagus with a fork or knife. The asparagus should be tender but still have a slight crunch. Overcooking can result in mushy asparagus.
How To Store Air Fryer Asparagus
To store leftover air fried asparagus, allow it to cool to room temperature and store in an air tight container in the refrigerator for 3-5 days.
You can reheat in a hot skillet, a microwave, or the air fryer for a few minutes, until heated through. I prefer reheat leftover asparagus in air fryer, because it will be as crispy as it was when you first cooked it.
What To Serve With Air Fryer Asparagus
This air fryer asparagus cooks super fast in the air fryer, so I recommend a fast main dish to go along with it! Here are some tried and true recipes to go with the roasted asparagus with red wine vinaigrette that you will love.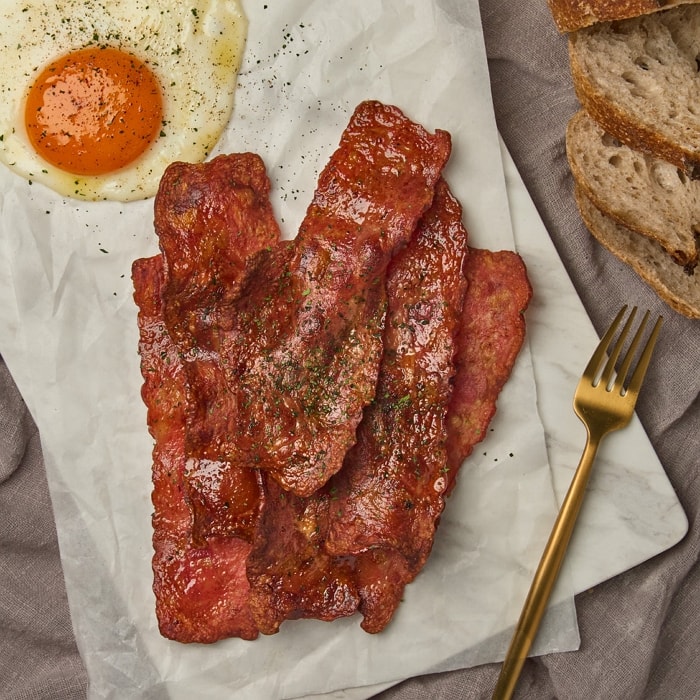 Air fryer bacon is a crispy and smoky addition that will accentuate the earthy tones of the asparagus.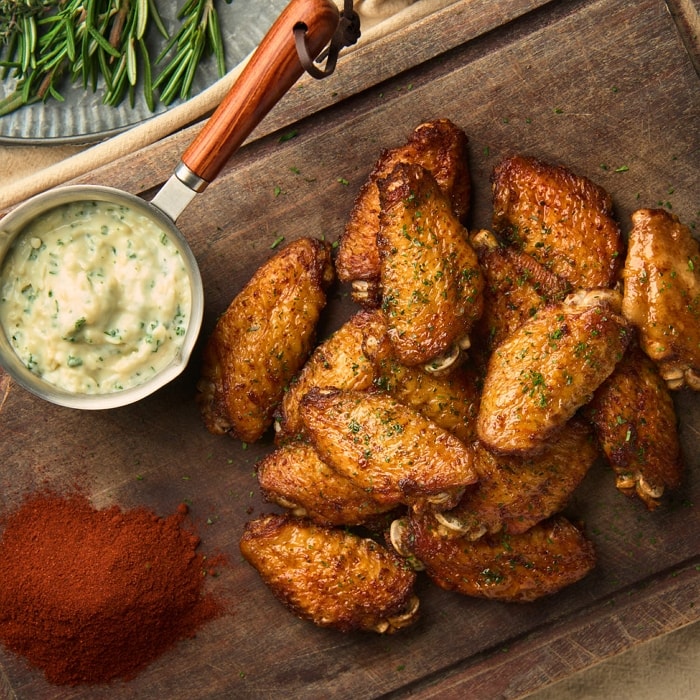 Air fryer chicken wings achieve a crispy texture without the need for excess oil. pairing with asparagus will offer a balance of textures and tastes, making it a satisfying and healthy dish.
Air fryer salmon pairs perfectly with asparagus, and the air fried recipe adds a unique flavor to salmon you'll never forget.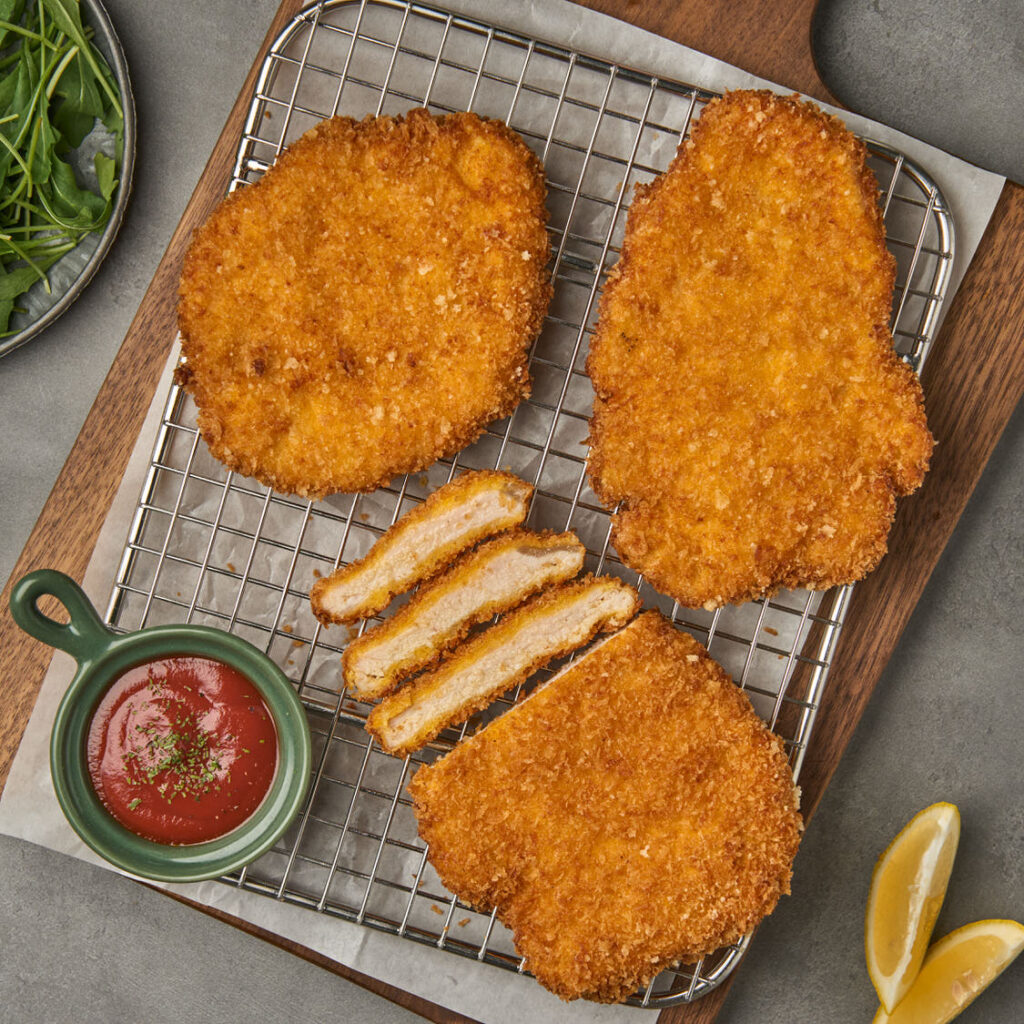 More Air Fryer Vegetable Recipes
Air frying vegetables gives a unique texture and flavor, especially if they are coated with oil and seasonings before air frying.
Let's dive into the world of culinary marvels with our diverse Air Fryer Vegetable recipes.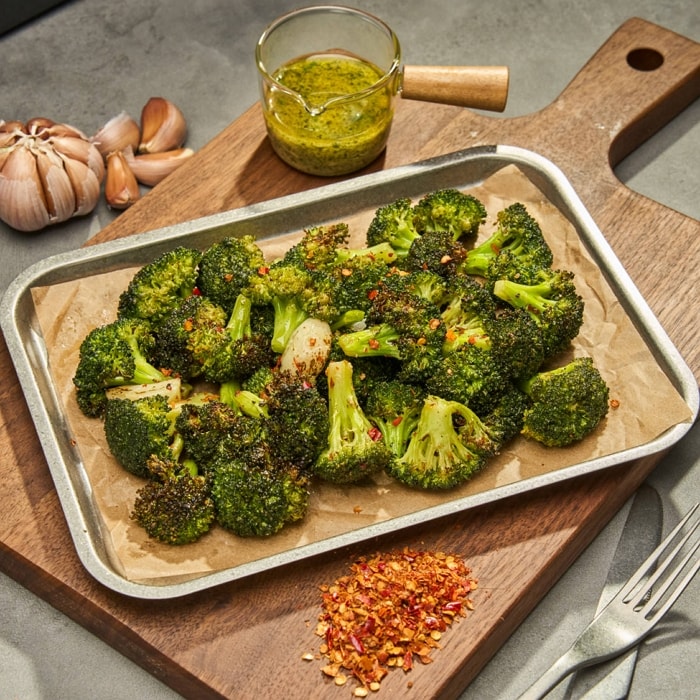 Air fryer broccoli is a simple and tasty side dish that can be prepared in just a few minutes. It is deliciously crispy and tender broccoli, with a beautiful roasted flavor.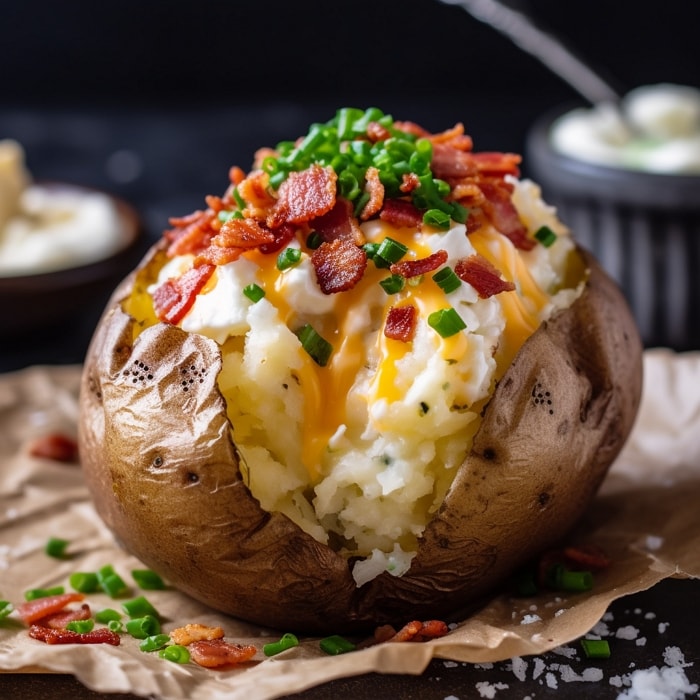 Air fryer baked potatoes are crispy on the outside and fluffy on the inside. You can top the potatoes with your favorite toppings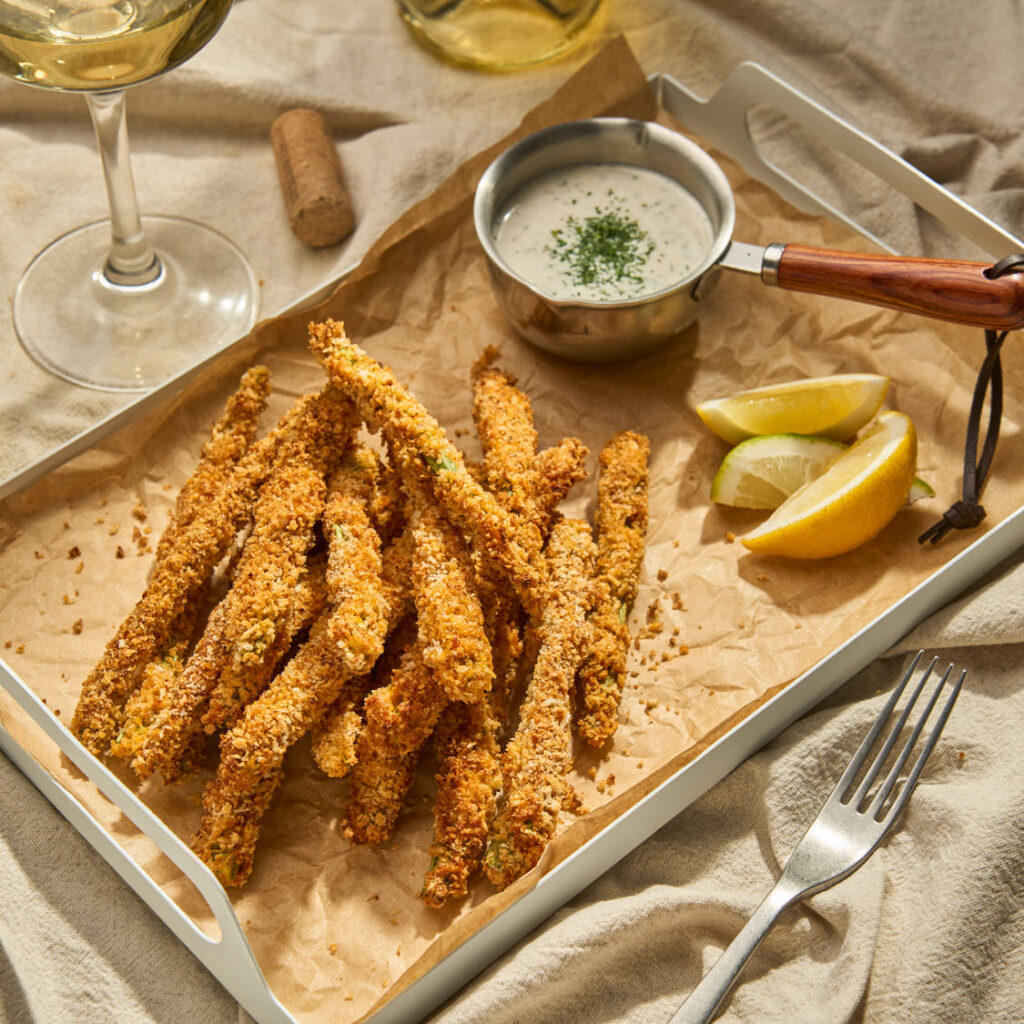 Air fryer green bean fries: Air fryer "Tempura Green Beans" are great alternative to the deep fried version and super easy to make.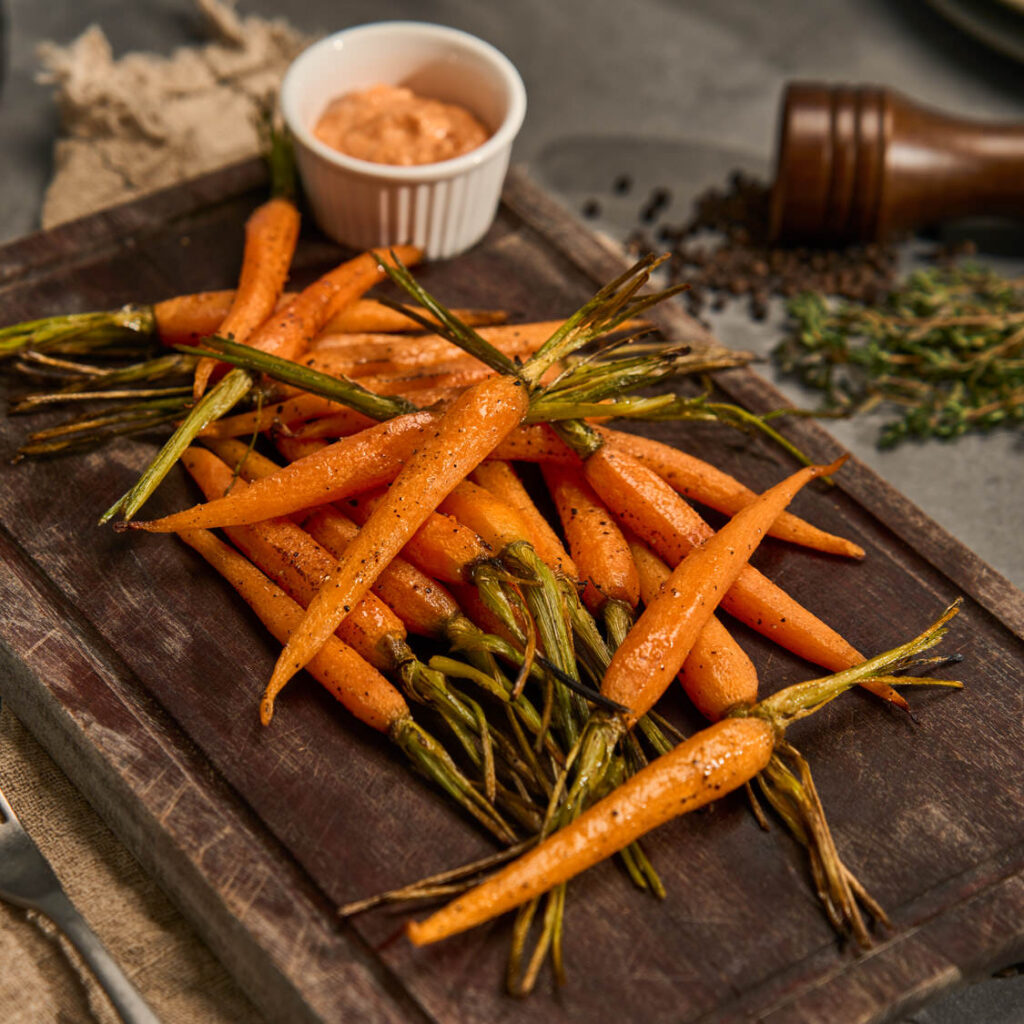 Air fryer roasted carrots: Serve the carrots with a generous helping of spiced yogurt. You can have it as a main or a delicious side dish.
FAQs about asparagus in air fryer
1. Why is my asparagus tough after cooking?
Asparagus contains an enzyme called lignin, which is found at the end of each spear. Lingen cannot be softened by heat, so it needs to be removed prior to cooking. The other reason is that it could be undercooked. If that's the case, cook it a little longer.
2. How do you know if asparagus is overcooked?
Overcooking asparagus depletes the flavors so to avoid this, remove them from the air fryer while they are still bright green. Once they turn brown, they are overcooked.
Roasted Asparagus with Parmesan Vinaigrette
This quick and easy asparagus recipe with a tangy but savory parmesan vinaigrette is the perfect springtime side dish.
Equipment
Tongs

Mixing Bowl

Small Mixing Bowl

Whisk

Chef Knife
Ingredients
For the Asparagus
16

oz

Asparagus, stems trimmed

1

tsp

Olive Oil

1/2

tsp

Kosher Salt

10

turns

Black Pepper, freshly cracked
For the Vinaigrette (optional)
1

tsp

Fresh Parsley, finely chopped

1

tsp

Red Wine Vinegar

1

tsp

Dijon Mustard

3

tbsp

Olive Oil

3

tbsp

Parmesan Cheese, grated

2

tsp

Honey

1/2

tsp

Kosher Salt

15

turns

Black Pepper, freshly cracked
Instructions
Remove the woody stems from the bottom of the asparagus.

16 oz Asparagus, stems trimmed

Combine all of the vinaigrette ingredients in a small bowl. Whisk until well combined.

1 tsp Fresh Parsley, finely chopped,

1 tsp Red Wine Vinegar,

1 tsp Dijon Mustard,

1 tsp Olive Oil,

3 tbsp Parmesan Cheese, grated,

2 tsp Honey,

1/2 tsp Kosher Salt,

10 turns Black Pepper, freshly cracked

Combine the asparagus with kosher salt, freshly cracked black pepper, and olive oil in a large bowl. Mix until the asparagus is evenly coated.

16 oz Asparagus, stems trimmed,

1 tsp Olive Oil,

1/2 tsp Kosher Salt,

10 turns Black Pepper, freshly cracked

After the Typhur Dome has finished preheating, carefully add the asparagus in a single layer to the cooking tray and return it back to the Typhur Dome.

Give the asparagus a light shake midway through the cooking time. This will ensure even cooking.

Temperature: 420 °F Time: 9 minutes

Using a pair of tongs carefully remove the asparagus from the Typhur Dome to a plate or serving tray.

Finish the asparagus with a drizzle of the parmesan vinaigrette and enjoy!
Nutrition PER SERVING
Calories:
314
kcal
Carbohydrates:
18
g
Protein:
8
g
Fat:
25
g
Saturated Fat:
5
g
Cholesterol:
5
mg
Sodium:
1317
mg
Potassium:
541
mg
Fiber:
6
g
Sugar:
10
g
Vitamin A:
1804
IU
Vitamin C:
13
mg
Calcium:
169
mg
Iron:
6
mg
(Nutrition information is calculated automatically by Spoonacular API and should be considered an estimate.)