Air frying broccoli can be a tricky affair, but with the right tips and tricks, it's a culinary breeze that's sure to elevate your kitchen adventures.
This ultimate guide will take you through every facet of creating the most scrumptious air fryer broccoli, and by the time you're done, you'll be the go-to broccoli maestro in your circle.
So, let's dive into the deliciously green world of air-fried broccoli.
Ingredients for Air Fryer Broccoli
The secret to delightful air fryer broccoli lies in the simplicity of ingredients. In essence, the ingredients needed for this recipe are unassuming, yet they harmonize beautifully to deliver a flavor-packed meal. You'll need:
1 head of fresh broccoli, cut into 2" florets
2 tablespoons of olive oil
2 each garlic clove, whole skin on crushed
15 turns black pepper, freshly cracked
1/4 tsp red chili flakes
1/2 tsp kosher salt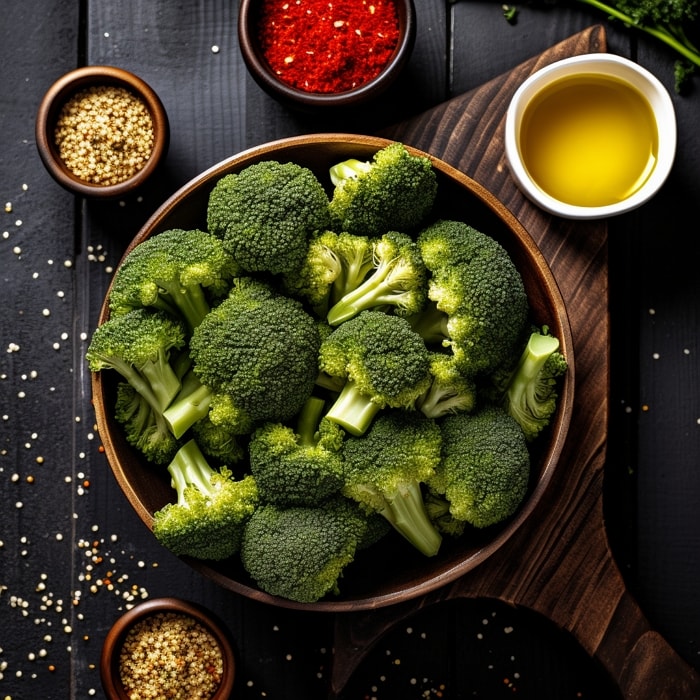 This pantheon of ingredients is flexible. Feel free to experiment with other spices, such as chili flakes for a hint of heat, or perhaps a dash of lemon zest for a citrusy tang.
If you don't want it too dry, you can make a vinaigrette. Simply combine all of the vinaigrette ingredients in a small bowl and mix until well combined.
1 tbsp Lemon Juice
1 tbsp Olive Oil
1 tsp Dijon Mustard
1 tbsp Fresh Parsley, finely chopped
1/2 tsp Honey
1/8 tsp Kosher Salt
Chef Tips for Broccoli in Air Fryer
Don't be fooled by the simplicity of the recipe; there's an artistry to getting perfectly crisp and tender broccoli from an air fryer.
Cut evenly: Make sure your broccoli florets are of similar size for even cooking. Avoid overly large pieces as they might not cook through properly.
Avoid overcrowding: Arrange the broccoli in a single layer to avoid overcrowding, as this can result in steaming instead of achieving a crispy texture. It is advisable to utilize a spacious air fryer, preferably a large-sized one, for optimal results.
Toss in oil thoroughly: A little olive oil goes a long way. It ensures an even golden-brown finish on each floret.
How Long to Cook Broccoli in Air Fryer
Perfectly cooked broccoli is a sight to behold, with its vibrant green hue and a texture that's just the right blend of crisp and tender.
For fresh broccoli, preheat your air fryer to 385°F/195℃, then cook for 7 minutes. You may want to give the broccoli a quick toss halfway through to ensure it cooks evenly.
For frozen broccoli, set the temperature slightly lower to avoid excessive browning on the outside while the inside remains uncooked.
How to Cook Broccoli in Air Fryer?
With the prep out of the way, let's move on to the main event: cooking the broccoli.
Preheat the air fryer: Preheating ensures even cooking, so don't skip this step.
Toss the broccoli in oil and spices: Make sure every floret is coated for optimal flavor.
Cook: Place the broccoli in the air fryer basket, cook at 385°F for 7 minutes.
Serve: Remove the broccoli carefully (it's hot!), sprinkle with red chili flakes if you like, and serve immediately.
How to Store Air Fryer Broccoli?
While air fryer broccoli is best enjoyed fresh, it can be stored in the fridge for up to four days. Make sure it has cooled completely before transferring it to an airtight container. To reheat, just pop it back in the air fryer for a couple of minutes until it regains its crispy glory.
What To Serve With Air Fryer Broccoli?
Air fryer broccoli is a versatile side that pairs well with a host of main dishes. Let's give you some ideas.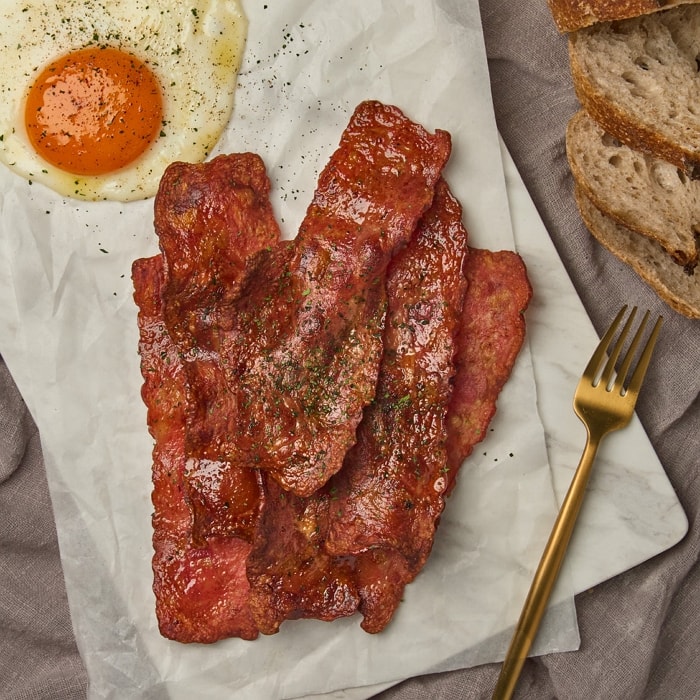 Air Fryer Bacon: crispy and smoky air fryer bacon and air fryer broccoli will create a harmonious balance of flavors and textures.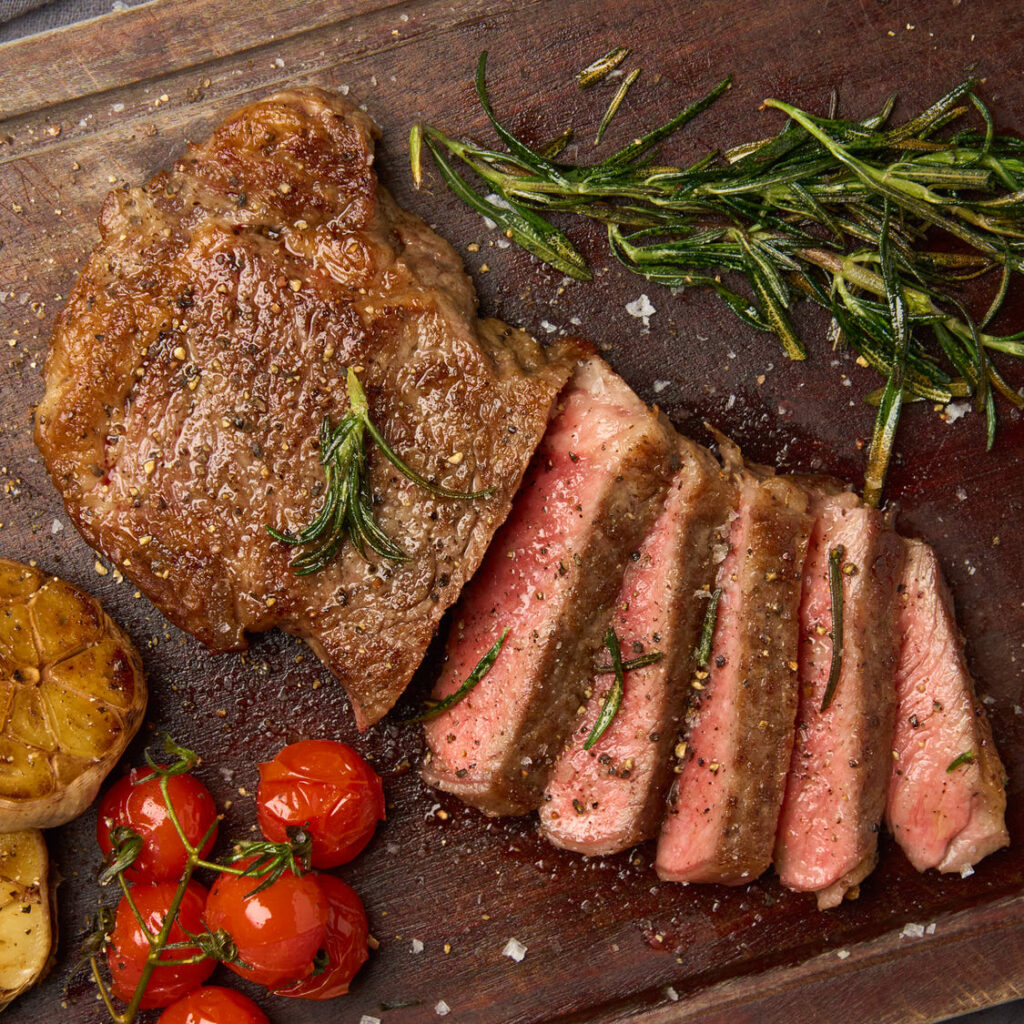 Air Fryer NY Steak: serving Air Fryer NY steak with Air Fryer broccoli can make for a delicious and well-balanced meal. The steak provides a protein-rich main dish, while the broccoli adds a nutritious and flavorful side. Together, they create a satisfying and healthy combination.
Air Fryer Salmon: Air frying retains moisture in the salmon, creating a crispy exterior, while roasting broccoli brings out its nutty flavor. Serving Air Fryer Salmon with Air Fryer Broccoli is a delicious and nutritious choice.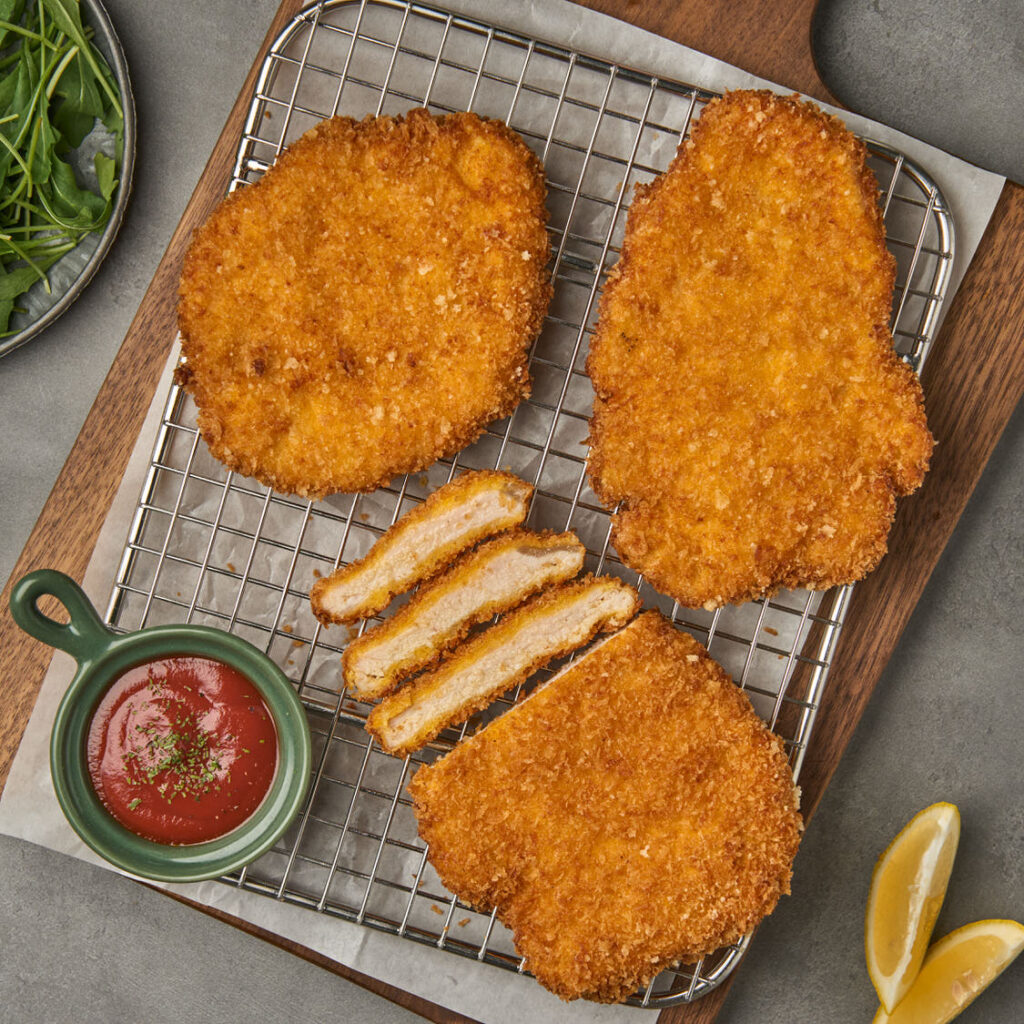 Air Fryer Pork Cutlets: pork chops cooked in an air fryer with a spiced panko breadcrumb coating result in a delectable combination of tender, juicy meat and a crispy exterior. It will be a perfect combination with broccoli.
More Air Fryer Vegetable Recipes
Once you've mastered broccoli, the world of air-fried vegetables is your culinary oyster. Try air-frying zucchini, bell peppers, or even sweet potatoes. The process is quite similar and just as delectable.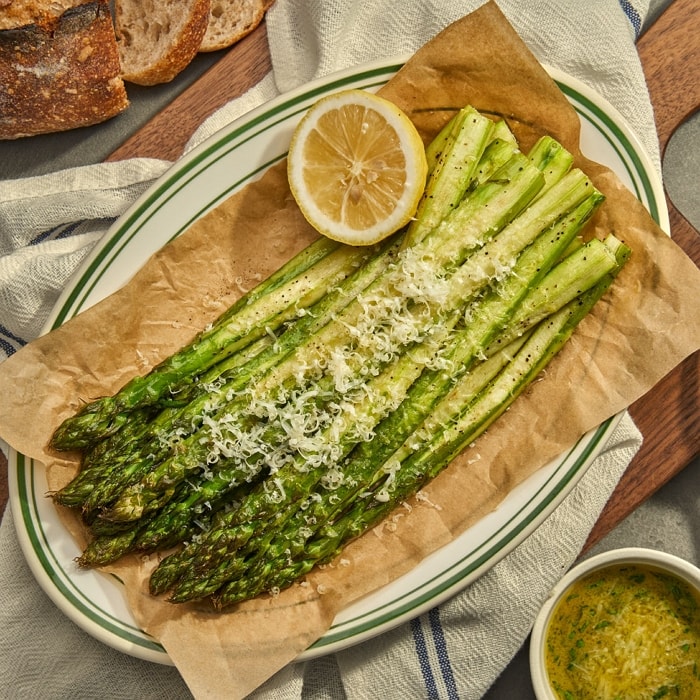 Air Fryer Asparagus: The air fryer evenly cooks the asparagus, preserving its natural sweetness and vibrant color. A healthier alternative to traditional frying methods.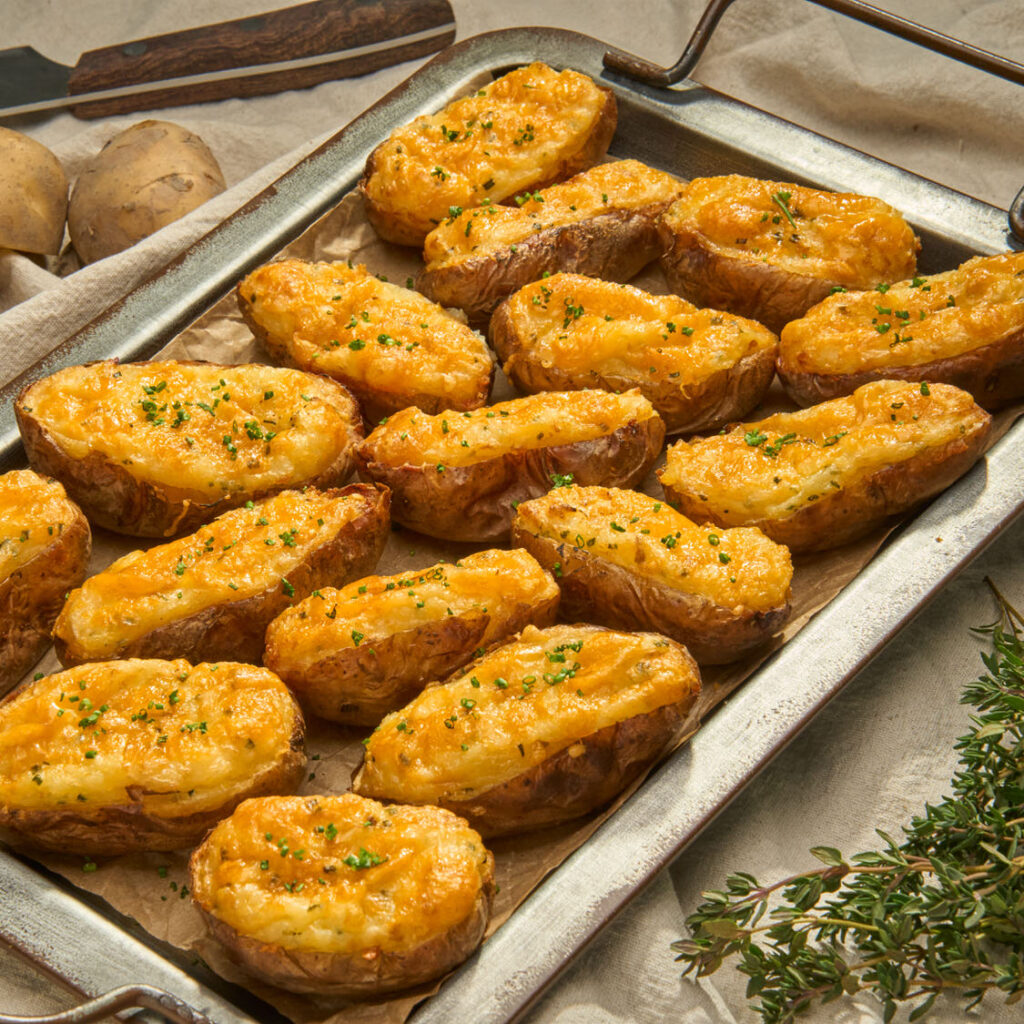 Air Fryer Baked Potatoes: Crispy, cheesy, and oh-so-satisfying! These spuds are baked, scooped, mixed with creamy goodness, and air-fried to perfection.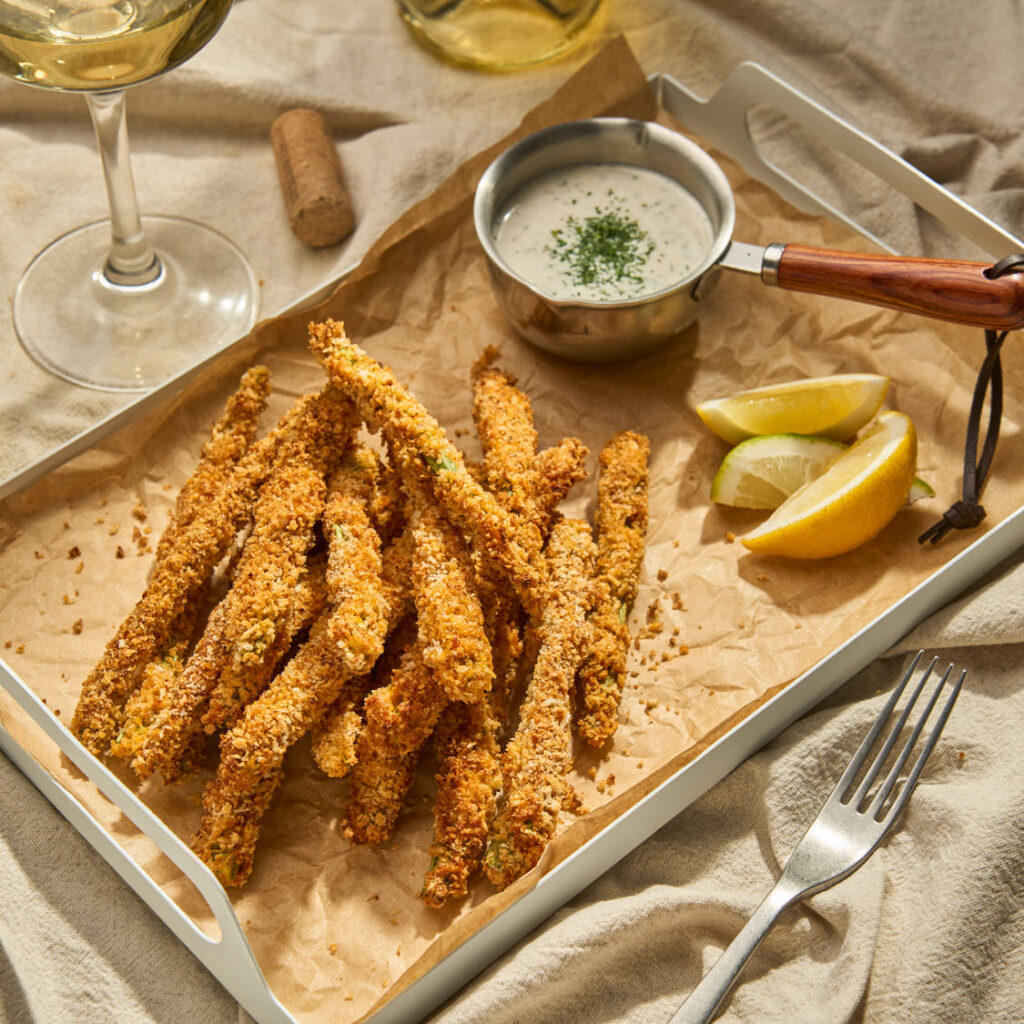 Air Fryer Green Bean Fries: Crispy, flavorful, guilt-free, vegetable delight. Air Fryer Green Bean Fries are a healthy twist on a classic snack. Tender green beans coated in a crunchy, seasoned coating. They're oven-baked to perfection, requiring minimal oil for a lighter alternative. Enjoy the satisfying crunch and savory taste, perfect for snacking or as a side dish.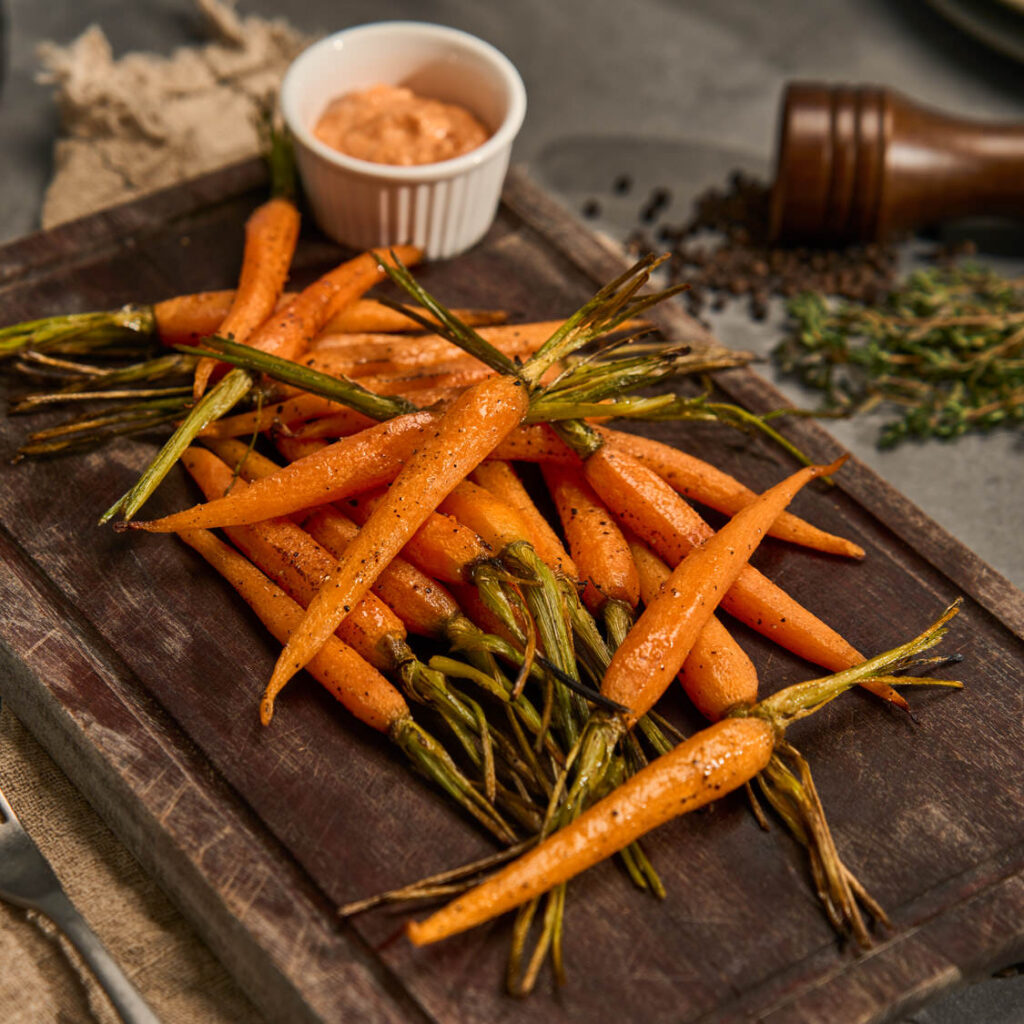 Air Fryer Roasted Carrots: Deliciously caramelized, tender carrots roasted to perfection in an air fryer. The carrots are coated in a light, crispy texture with a hint of golden brown color. Healthier than traditional frying, they retain their natural sweetness and nutrients. Quick, easy, and flavorful side dish that will leave you craving more.
FAQs
1. Why does my broccoli burn in the air fryer?
If your broccoli is burning, it's likely due to too high a temperature or too long a cooking time. Stick to 385°F/195℃ and adjust the cooking time as needed. Remember, every air fryer is unique and may require some tweaking to find the perfect settings.
2. Why are my vegetables not crispy from the air fryer?
Your vegetables may not crisp up if they're overcrowded in the air fryer, as this can cause them to steam instead. Additionally, not enough oil can result in less crispy veggies. Toss your vegetables in a suitable amount of oil and cook in batches if needed.
3. Does air frying broccoli remove nutrients?
While air frying does cause a slight reduction in certain nutrients, such as vitamin C, it's less than traditional cooking methods like boiling. So rest easy, your air-fried broccoli is still packed with plenty of nutritional goodness!
Armed with this comprehensive guide, you're all set to embark on your air-fried broccoli adventure. Whether as a snack, side dish, or part of a hearty main, air fryer broccoli is an exquisite addition to your culinary repertoire. Happy air frying!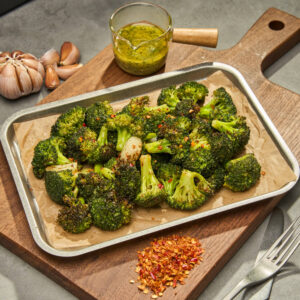 Roasted Broccoli
This simple but tasty recipe brings out the roasty nutty flavors of the broccoli which is perfectly balanced from the bright acidity of the lemon vinaigrette. Delicious!
Equipment
Tongs

Mixing Bowl

Chef Knife

Small Mixing Bowl

Tray
Ingredients
For the Broccoli
15

turns

Black Pepper, freshly cracked

2

tbsp

Olive Oil

1/4

tsp

Red Chili Flakes

2

each

Garlic Clove, whole skin on crushed

1/2

tsp

Kosher Salt

16

oz

Broccoli

cut into 2" florets
For the Vinaigrette
1

tbsp

Lemon Juice

1

tbsp

Olive Oil

1

tsp

Dijon Mustard

1

tbsp

Fresh Parsley, finely chopped

1/2

tsp

Honey

1/8

tsp

Kosher Salt
Instructions
Rinse the broccoli before cutting into 2 inch bite-size florets.

Combine the broccoli in a large bowl with the salt, pepper, garlic, chili flakes, and olive oil. Toss until evenly coated.

15 turns Black Pepper, freshly cracked,

2 tbsp Olive Oil,

1/4 tsp Red Chili Flakes,

2 each Garlic Clove, whole skin on crushed,

1/2 tsp Kosher Salt,

16 oz Broccoli

Combine all of the vinaigrette ingredients in a small bowl and mix until well combined.

1 tbsp Lemon Juice,

2 tbsp Olive Oil,

1 tsp Dijon Mustard,

1 tbsp Fresh Parsley, finely chopped,

1/2 tsp Honey,

1/2 tsp Kosher Salt

Preheat the Typhur Dome to 385°F/195℃. (Around 5 minutes)

1 tbsp Lemon Juice,

2 tbsp Olive Oil,

1 tsp Dijon Mustard,

1 tbsp Fresh Parsley, finely chopped,

1/2 tsp Honey,

1/2 tsp Kosher Salt

Once the Typhur Dome has preheated, add the broccoli to the cooking tray with care and put it back into the air fryer.

Give the broccoli a light shake midway through the cooking time and return the cooking tray back to the Typhur Dome.

Temperature: 385 °F Time: 7 minutes

Using a tong carefully remove the broccoli from the airfryer to a plate or serving tray.

1 tbsp Lemon Juice,

2 tbsp Olive Oil,

1 tsp Dijon Mustard,

1 tbsp Fresh Parsley, finely chopped,

1/2 tsp Honey,

1/2 tsp Kosher Salt

Serve the roasted broccoli with a drizzle of the lemon vinaigrette for delicious side.
Nutrition PER SERVING
Calories:
292
kcal
Carbohydrates:
22
g
Protein:
7
g
Fat:
22
g
Saturated Fat:
3
g
Polyunsaturated Fat:
3
g
Monounsaturated Fat:
16
g
Sodium:
835
mg
Potassium:
839
mg
Fiber:
8
g
Sugar:
6
g
Vitamin A:
1532
IU
Vitamin C:
206
mg
Calcium:
145
mg
Iron:
3
mg
(Nutrition information is calculated automatically by Spoonacular API and should be considered an estimate.)