Air fryers are known for their ability to create a crispy texture, and bacon is no exception. The circulating hot air in the air fryer helps to evenly crisp up the bacon, giving it a satisfying crunch.
Air Fryer Bacon
I like cook chicken wings, french fries in air fryer. But, today we will introduce a game-changing recipe: air fryer bacon.
The leaner nature of air fryer bacon, with excess fat dripped away during air frying, creates a satisfying crunch. The savory and smoky notes characteristic of bacon are intensified. I must say air fryer bacon is the most perfect, most delicious bacon I have ever had.
Moreover, the reduced greasiness of air fryer bacon compared to traditional frying methods allows the true flavors of the bacon to shine through without being overwhelmed by excessive oiliness.
Compared to traditional frying methods, air fryer bacon is faster. And air fryer bacon offers a hassle-free and less messy cooking experience compared to traditional methods like stovetop frying, microwave, or oven baking. It is well-suited for family use.
How Long to Cook Bacon in Air Fryer
The cooking time for bacon in an air fryer can vary depending on factors such as the thickness of the bacon slices, desired crispiness, and the specific model of the air fryer.
The recommended bacon air fryer time is 8 to 12 minutes at 400°F (200°C). You can check the bacon around the 8-minute mark to assess the level of crispiness and adjust the cooking time accordingly.
If you prefer your bacon extra crispy, you can continue cooking for an additional 1 to 2 minutes, but keep a close eye on it to avoid burning.
Which Air Fryer is Best?
While air fryers generally follow the same cooking principles, different models may vary in terms of performance, temperature accuracy, and cooking times. It's important to become familiar with your specific air fryer and make adjustments as necessary to achieve the best results.
Choosing the best air fryer depends on your specific needs, preferences, and budget. Two popular options are the basket-style air fryer and the toaster oven-style air fryer.
Basket-style air fryer: We have the Typhur Dome Air Fryer which is big enough to feed the whole family. And it features a unique, self-cleaning mode for easy to clean. It support work with Typhur App to keep an eye on the progress of your meal.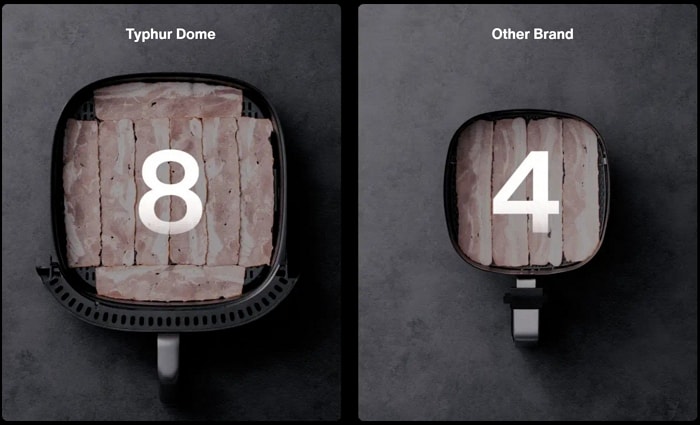 Toaster oven-style air fryer: it take up a little more space compared to basket-style air fryers. The larger cooking capacity and additional functionalities of a toaster oven-style air fryer result in a slightly larger overall size.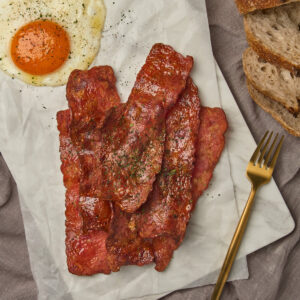 Crispy Bacon
Preparing the perfect piece of bacon has never been easier.
Equipment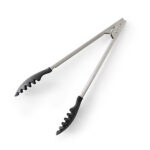 Tongs
Ingredients
1/2

pound

Bacon

sliced, about 7 pieces
Instructions
Preheat the Typhur Dome to 400°F/ 205°C. (Around 5 minutes)

After the Typhur Dome has finished preheating, carefully place the sliced bacon in a single layer and return it back to the air fryer. For the best results, make sure that you do not overcrowd the Typhur Dome.

if using thick-cut bacon, you may need to add a few minutes.

Temperature: 400 °F Time: 10 minutes

Using a pair of tongs, carefully remove the crispy bacon to a plate or serving tray.

Whether you enjoy your bacon first thing in the morning with your breakfast this is the recipe for you.
Nutrition Per Serving
Calories:
392
kcal
Carbohydrates:
16
g
Protein:
14
g
Fat:
30
g
Saturated Fat:
5
g
Polyunsaturated Fat:
18
g
Monounsaturated Fat:
7
g
Cholesterol:
2
mg
Sodium:
1659
mg
Potassium:
110
mg
Fiber:
6
g
Sugar:
1
g
Calcium:
48
mg
Iron:
4
mg
(Nutrition information is calculated automatically by Spoonacular API and should be considered an estimate.)