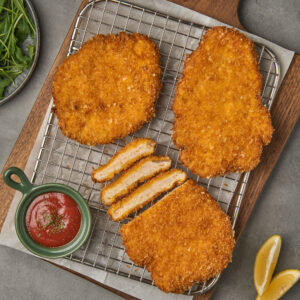 Milan Pork Cutlet
This simple but delicious recipe uses tender pork chops coated in a spiced panko bread mixture that delivers a crispy and juicy piece of pork that is hard to beat. This recipe can be easily modified to incorporate your favorite spices and flavors.
Equipment
Bowl

Tongs

Tray

Plastic Wrap

Meat Mallet
Ingredients
4

each

Pork Chop

6- 8oz. per pork chop (3/4 inch- 1 inch thick)

2

each

Large Egg

1

cup

Panko Bread Crumbs

15

turns

Black Pepper, freshly cracked

1

tsp

Kosher Salt

1/8

tsp

Ground Cayenne Pepper

1

tsp

Garlic Powder

1/2

cup

All Purpose Flour
Instructions
After trimming away any excess fat, place each pork chop between 2 pieces of plastic wrap. Using a kitchen mallet, pound the pork chops until they are roughly a 1/2 inch thick. Remove the plastic wrap and set the pork chops aside.

In a medium-sized mixing bowl, combine the panko, garlic powder, kosher salt, and cayenne powder. Mix until well combined.

1 cup Panko Bread Crumbs,

1 tsp Kosher Salt,

15 turns Black Pepper, freshly cracked,

1 tsp Garlic Powder,

1/8 tsp Ground Cayenne Pepper

Add the prepared bread crumbs, beaten eggs, and flour to 3 separate bowls. To bread the pork chops, start by first coating them in flour, followed by the egg, then the bread crumbs. Gently press the pork chops into the bread crumbs to ensure an even coating.

2 each Large Egg,

1/2 cup All Purpose Flour

Preheat the Typhur Dome to 400°F/205°C. (Around 5 minutes)

After preheating, carefully place the breaded pork chops in the cooking tray. Lightly coat each breaded pork chop with vegetable spray. Return the cooking tray.

Cook the pork chops.

Temperature: 400 °F Time: 4 minutes

Using a pair of tongs, carefully flip the chops and return the tray.

Finish cooking.

Temperature: 400 °F Time: 4 minutes

Using a pair of tongs, carefully remove the pork chops from the Typhur Dome to a plate or serving tray.

This versatile recipe can be enjoyed on its own, smothered in a flavorful gravy or tomato sauce, or made into a delicious katsu sandwich.