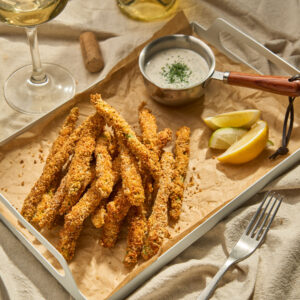 Air Fryer Tempura Green Beans
Air fryer "Tempura Green Beans" are great alternative to the deep fried version and super easy to make.
Ingredients
Main Ingredient
9

oz

Green Beans, trimmed
Bread Crumbs Mixture
2

cup

Panko Bread Crumbs

1

tbsp

Garlic Powder

1

tsp

Smoked Paprika

1

tsp

Kosher Salt

15

turns

Black Pepper, freshly cracked
For Breading the Green Beans
2

piece

Large Egg

3/4

cup

Bread Crumbs Mixture

1 1/4

cup

All Purpose Flour

as needed

Vegetable Oil Spray
Instructions
Trim the ends of each green bean.

9 oz Green Beans, trimmed

Combine bread crumbs, smoked paprika, garlic powder, salt, black pepper in a bowl. Mix until well combined.

2 cup Panko Bread Crumbs,

1 tbsp Garlic Powder,

1 tsp Smoked Paprika,

1 tsp Kosher Salt,

15 turns Black Pepper, freshly cracked

Place the bread crumbs, flour, and beaten eggs in 3 different bowls. Bread the green beans by first dipping it in the flour followed by the beaten eggs, and lastly the seasoned bread crumbs. Lay the breaded green beans on a paper towel-lined plate or tray. Note: We suggest using one hand for dipping in the wet ingredients and the other hand for coating in the dry ingredients.

1 1/4 cup All Purpose Flour,

2 piece Large Egg,

3/4 cup Bread Crumbs Mixture

Carefully add the green beans to the cooking tray in a single layer making sure not to overcrowd the tray. Lightly spray the green beans with vegetable spray. Note: Depending on the size and quantity of green beans you have, you may need to cook them in batches.

as needed Vegetable Oil Spray

Cook the tempura green bean.

Temperature: 355 °F Time: 8 minutes

Carefully transfer the green beans to a paper serving tray or plate.

Enjoy these crispy green beans with your favorite dipping sauce.