Are you tired of the same old boring methods for cooking salmon? Look no further than your trusty air fryer!
Air fryer salmon boasts a delightfully crispy exterior paired with a juicy, tender inside. Moreover, this cooking technique guarantees even texture throughout the entire fillet.
This versatile appliance not only delivers crispy fries but also cooks up impeccable salmon in less than 5 minutes.
Ingredients for Air Fryer Salmon
Fresh Salmon Filet skin on or skin off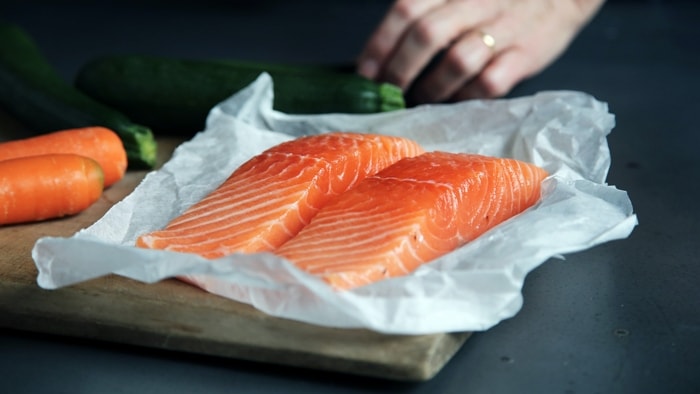 I prefer to cook salmon in air fryer with the skin on it because it can help retain moisture and flavor. The skin also crisps up nicely in the hot circulating air, adding a delightful crunch to each bite. Moreover, leaving the skin on can provide additional health benefits as it contains healthy fats and nutrients.
On the other hand, removing the skin before cooking can result in a milder taste and a softer texture. However, this method can be preferable for those who do not enjoy the flavor of salmon skin or prefer a less crispy texture. It's worth noting that removing the skin also reduces the overall fat content of the dish.
Seasoning
I always use simple seasoning to bring out or intensify the natural flavor of the food without changing it. So, for this recipe, just use 3 seasonings: kosher salt, black pepper, and olive oil.
Before putting the salmon into the air fryer, sprinkle kosher salt evenly on both sides of the salmon fillets. Grind or sprinkle freshly ground black pepper over the fillets. Lightly drizzle olive oil over the seasoned salmon. The oil helps keep the fish moist during cooking and enhances its flavor.
How long to cook salmon in air fryer
Cooking times for salmon in an air fryer may vary depending on the thickness of the fillet. As a general rule of thumb, cook the salmon for 8-10 minutes per inch of thickness.
For example, if your salmon fillet is 1 inch thick, cook it for 5-10 minutes. If it's 2 inches thick, cook it for 16-20 minutes. Check the internal temperature with a meat thermometer to ensure it reaches 145°F.
Tips for cooking salmon in air fryer
Here are some tips to ensure your air fryer salmon turns out perfectly:
Brush the salmon with a little bit of oil before cooking to keep it from sticking to the basket.
Don't overcrowd the air fryer basket. Leave enough space between each salmon fillet to ensure they cook evenly.
If you're cooking multiple salmon fillets, try to choose ones that are uniform in thickness, so they cook evenly.
Consider marinating the salmon before cooking to add extra flavor.
FAQs about salmon in air fryer
Should I air fry salmon skin off or skin on?
It's a matter of personal preference. If you prefer crispy skin, leave it on during cooking. If you don't like the skin, remove it before cooking.
How long to cook salmon in air fryer at 400?
As mentioned earlier, cook the salmon for 5-10 minutes per inch of thickness, until it reaches an internal temperature of 145°F.
How to tell if salmon is cooked?
There are a few ways to tell if salmon is cooked properly: 1. check the flakiness; 2. check the temperature; 3. check the color; 4. check the time. Learn more details on how to tell if salmon is cooked step by step.
Cooking salmon in an air fryer is a quick and easy way to prepare this delicious fish. By following the tips and guidelines we've outlined in this article, you'll be able to cook salmon to perfection every time.
Whether you're making a simple dinner or hosting a special occasion, air fryer salmon is sure to impress your family and guests.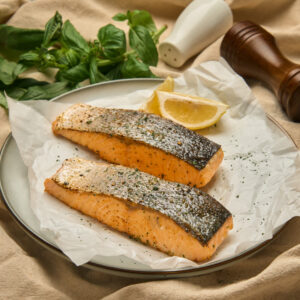 Roasted Salmon
It has never been easier or faster to prepare a deliciously prepared filet of roasted salmon. Whether you like your salmon with or without the salmon skin, this recipe is guaranteed to be a weeknight favorite.
Ingredients
4

each

Fresh Salmon Filet

skin on or skin off

2

tsp

Kosher Salt

20

turns

Black Pepper, freshly cracked

1

tbsp

Olive Oil
Instructions
Prepare the salmon by making sure that the scales and pin bones have been removed. (If you are preparing salmon without the skin, you don't need to remove the scales). Cut the salmon into 4 even portions. This can also be done by your local fishmonger or grocery store butcher.

4 each Fresh Salmon Filet

Lightly coat each filet in olive oil before moderately seasoning with kosher salt and freshly cracked black pepper.

2 tsp Kosher Salt,

20 turns Black Pepper, freshly cracked,

1 tbsp Olive Oil

Preheat the Typhur Dome to 400°F/ 205°C. (Around 5 minutes)

After the Typhur Dome has finished preheating, carefully place the salmon in the cooking tray and return it to the Typhur Dome. For skin-on salmon, place the salmon in the Typhur Dome with the skin facing upwards.

Cook the salmon.

Temperature: 400 °F Time: 5 minutes

Using a spatula, carefully remove each salmon filet from the Typhur Dome to a plate or serving tray.

When it comes to salmon, the serving options are endless. Whether it is served over a bed of rice with steamed veggies or piled on to a bed of dressed salad greens, this is the perfect weeknight dinner.
Nutrition PER SERVING
Calories:
32
kcal
Protein:
0.2
g
Fat:
4
g
Saturated Fat:
0.5
g
Polyunsaturated Fat:
0.4
g
Monounsaturated Fat:
3
g
Cholesterol:
1
mg
Sodium:
1163
mg
Potassium:
5
mg
Vitamin A:
0.4
IU
Calcium:
1
mg
Iron:
0.04
mg
(Nutrition information is calculated automatically by Spoonacular API and should be considered an estimate.)