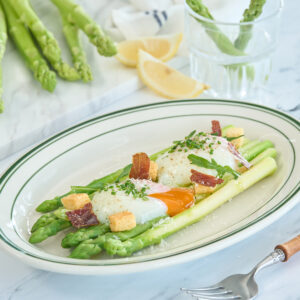 Sous Vide Poached Egg
There is no going wrong with this delicious and decadent sous vide poached eggs.
Instructions
Add enough water to the sous vide container to ensure that the ingredients are fully submerged and the minimum quantity of water is reached. Complete set up by securing the circulator tower to the sous vide container.

Preheat water now.

Temperature: 145.4 °F Time: 45 minutes

When the target temperature is reached, gently lower the eggs into the water bath. Sous vide the eggs at 145.4°F for 45 minutes.

Cook until ready.

Carefully remove the egg from the water bath. transfer the egg to a serving plate or a bowl.

To serve, gently remove the egg shell from each of the eggs. We suggest serving roasted asparagus and crispy bacon.
Video