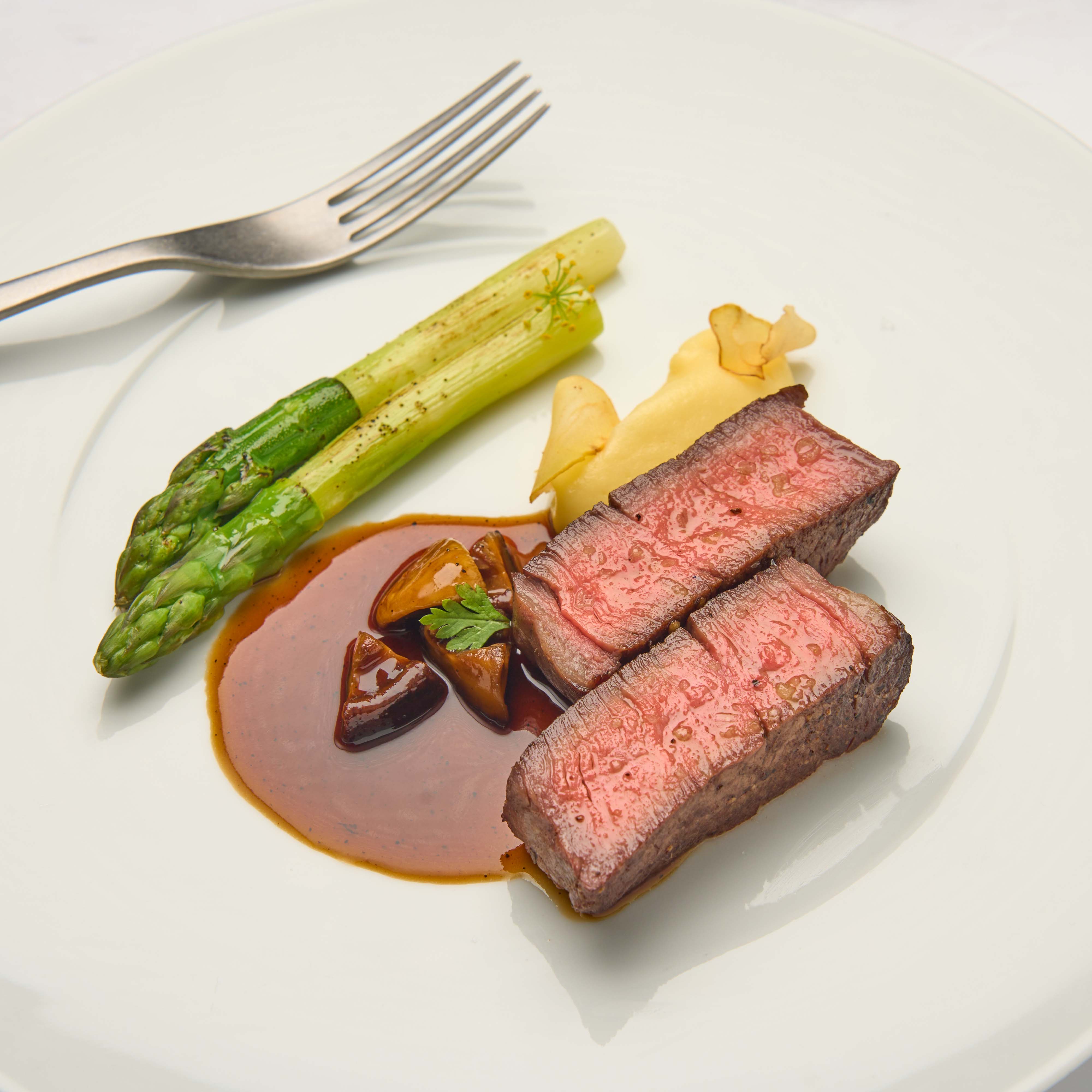 Equipment
Vacuum Sealer

Vacuum Bag

Sauté Pan

Tongs

Kitchen Paper
Ingredients
For Sous Vide Cooking
2

each

Basic Filet Mignon

(200-400g or 7oz-14oz)

1

tsp

Kosher Salt

1

tbsp

Unsalted Butter or Olive Oil, for sous vide cooking

10

turns

Fresh Cracked Pepper

1

sprig

Fresh Thyme or Rosemary

1

each

Garlic Clove, whole skin on crushed
For Searing the Steak
1

tbsp

High Temperature Oil: canola oil, grape seed oil, avocado oil

1

tbsp

Unsalted Butter, for basting (optional)
Instructions
Add enough water to the sous vide container to ensure that the ingredients are fully submerged and the minimum quantity of water is reached. Complete set up by securing the circulator tower to the sous vide container.

Using the ruler on the side of the snap weight, measure the thickness of your steak at its thickest section.

Thickness: 1 inch Freshness: fresh Time: 1 hour, 17 minutes

Choose your preferred doneness.

Taste: Rare Temperature: 122.0 °F

Generously season the steak with salt and pepper before placing it in the vacuum bag along with olive oil or unsalted butter, garlic, and a sprig of thyme or rosemary.

2 each Basic Filet Mignon,

1 tsp Kosher Salt,

10 turns Fresh Cracked Pepper,

1 tbsp Unsalted Butter or Olive Oil, for sous vide cooking,

1 sprig Fresh Thyme or Rosemary,

1 each Garlic Clove, whole skin on crushed

Using the vacuum sealer, make sure that the tenderloin is completely sealed and that any excess air has been removed from the bag.

Secure the snap weight to the bottom of the vacuum bag before carefully lowering it into the sous vide container. Secure the vacuum bag by inserting the bag clip into the rack.

Allow the steak to sous vide for the duration of the given cooking time.

Once the tenderloin has finished cooking, carefully remove the steak from the water bath. Remove the steak from the bag along with the herbs and garlic to a paper towel-lined plate or a sheet tray with a roasting rack. Before searing, thoroughly dry the steak with paper towels.

Place a sauté pan over high heat and add high-temperature cooking oil. When the oil begins to lightly smoke, carefully add the steak along with the garlic and herbs to the pan. Sear the steak on each side for approximately 40 seconds or until golden brown. After flipping the steak, you can add unsalted butter for basting. This adds an extra depth of flavor and smells amazing!

1 tbsp High Temperature Oil: canola oil, grape seed oil, avocado oil,

1 tbsp Unsalted Butter, for basting (optional)

Slice and serve!
Video