What Makes Sous Vide Chicken Breast So Good?
Sous vide chicken breast is a game-changer for many reasons:
Perfectly Cooked Every Time: The sous vide technique involves cooking food at a precise temperature in a water bath. This guarantees that your chicken breast will be perfectly cooked throughout, without the risks of overcooking or undercooking.
Juiciness and Moisture: Traditionally cooked chicken breast often runs the risk of becoming dry and tough, especially when it's overcooked. With sous vide, chicken is cooked evenly in its own juices, which locks in moisture and makes the meat incredibly juicy and tender.
Flavorful: Since the chicken is cooked in a sealed bag, all the flavors from your seasonings infuse directly into the meat, making sous vide chicken more flavorful compared to other cooking methods. The sealed environment also prevents flavor loss to the cooking medium, as might happen with grilling or boiling.
Flexibility: The sous vide method gives you control over the texture of your chicken. By adjusting the temperature, you can achieve anything from a traditional, firmer texture to a softer, more delicate one.
Easy and Foolproof: The sous vide method is pretty much a set-it-and-forget-it cooking method. Once you've set the temperature and time, the cooker does the rest. This makes it ideal for beginners, or anyone looking for an easy and practically foolproof way to cook chicken breast.
Consistency: Whether you're cooking one chicken breast or ten, sous vide delivers consistent results every time, which is particularly useful for meal prepping or entertaining guests.
How Long to Sous Vide Chicken Breast
The secret to perfect chicken? Temperature and cooking time control.
Sous vide cooking utilizes precise temperature control with circulation to produce results that you can't achieve through any other cooking technique.
Sous vide chicken breast cooking time depends on the thickness of the chicken breast and the desired doneness.
Without a doubt, Typhur Sous Vide Station stands out as an excellent choice for sous vide cooking because of its unparalleled precision in temperature control. Typhur Sous Vide Station offers 7 common thicknesses of chicken breast, each corresponding to different cooking times, aiming to achieve perfect cooking results.
| | | |
| --- | --- | --- |
| Thickness | Fresh chicken breast | Frozen chicken breast |
| ¾ inch | 0:45:00 | 1:07:00 |
| ⅞ inch | 0:52:00 | 1:18:00 |
| 1 inch | 1:00:00 | 1:30:00 |
| 1⅛ inch | 1:07:00 | 1:41:00 |
| 1¼ inch | 1:15:00 | 1:52:00 |
| 1⅜ inch | 1:22:00 | 2:03:00 |
| 1½ inch | 1:30:00 | 2:15:00 |
Sous Vide Chicken Breast Temp Chart
Many sous vide devices offer general temperature recommendations, but the precise settings that Typhur provides, backed by our Cooking Science Department's extensive experimentation and analysis, take this to another level.
If you prefer your chicken breast to have a traditional, firm texture, Typhur provides the exact temperature for that.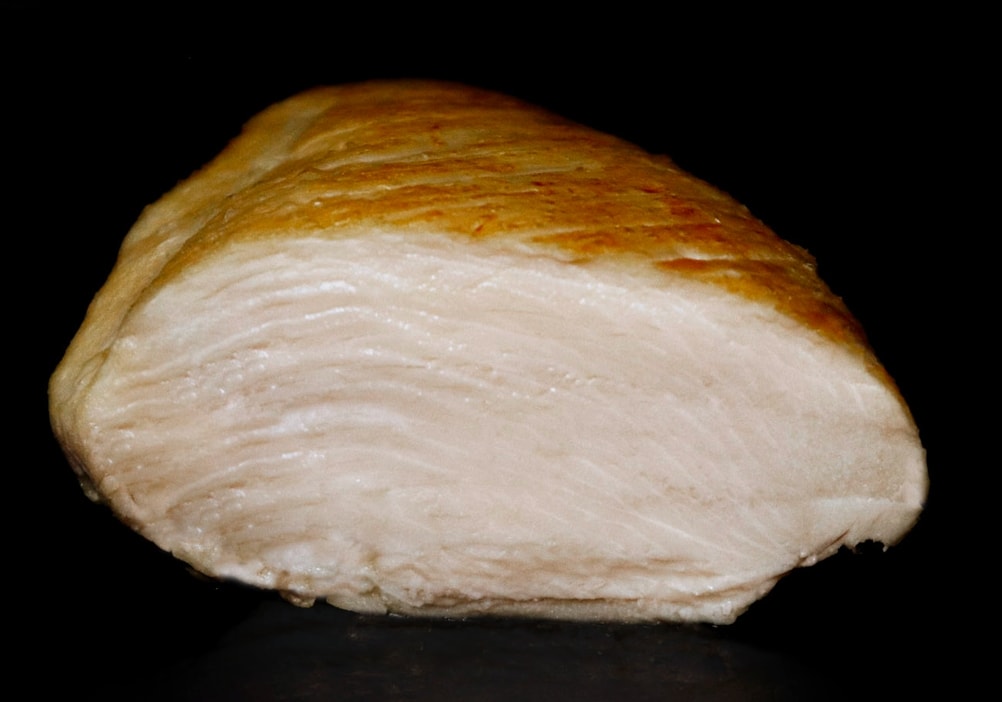 Soft and Juicy: 140℉/60°C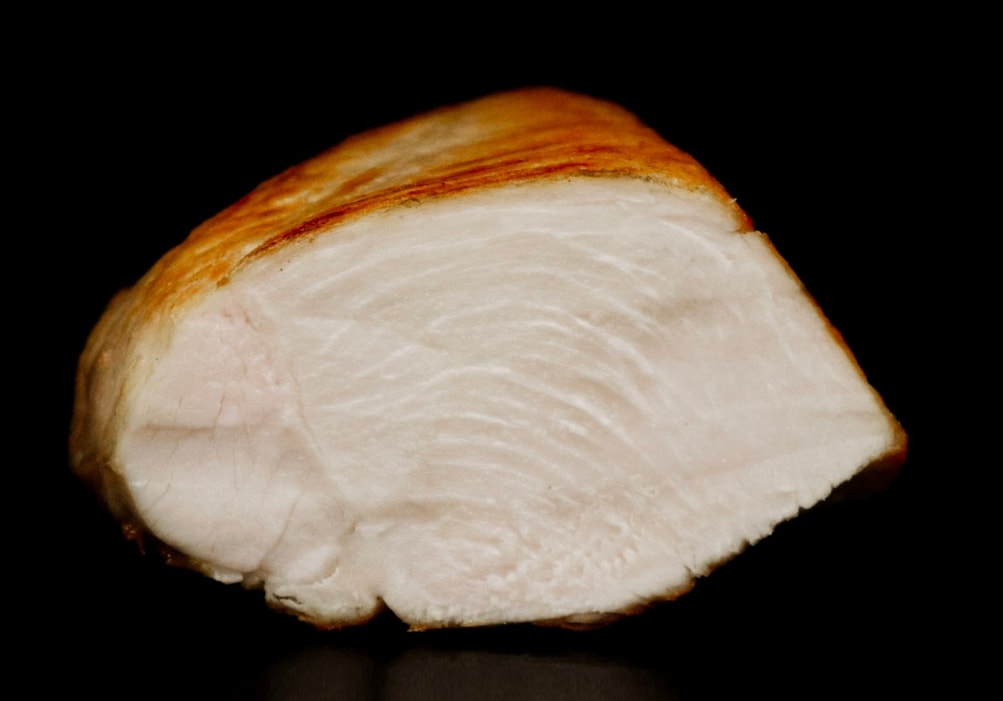 Tender and Juicy: 149℉/65°C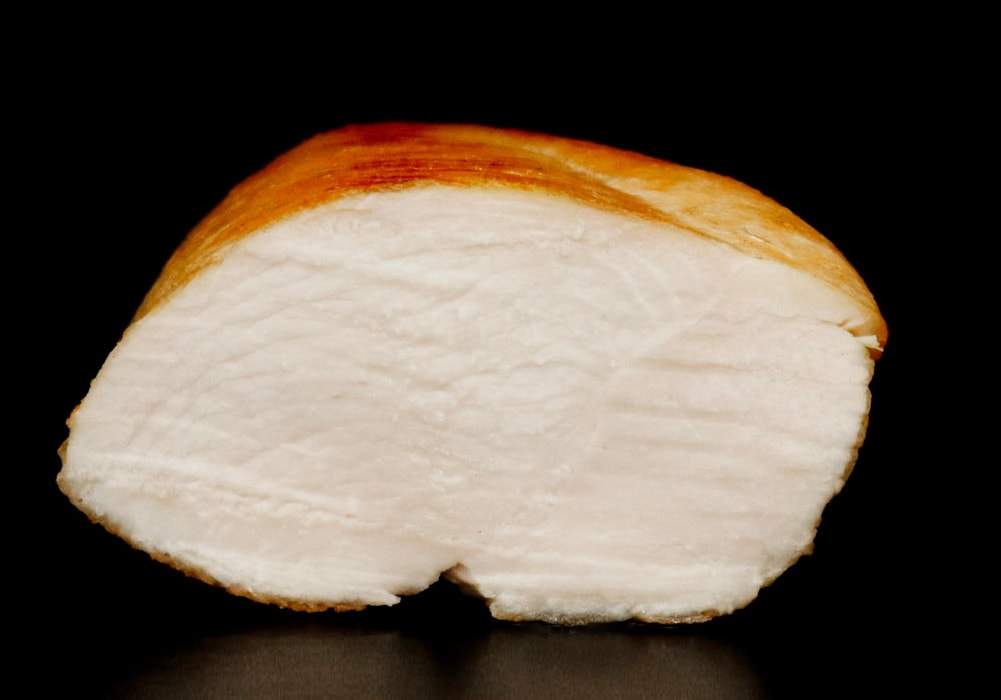 Firm and Juicy: 158℉/70°C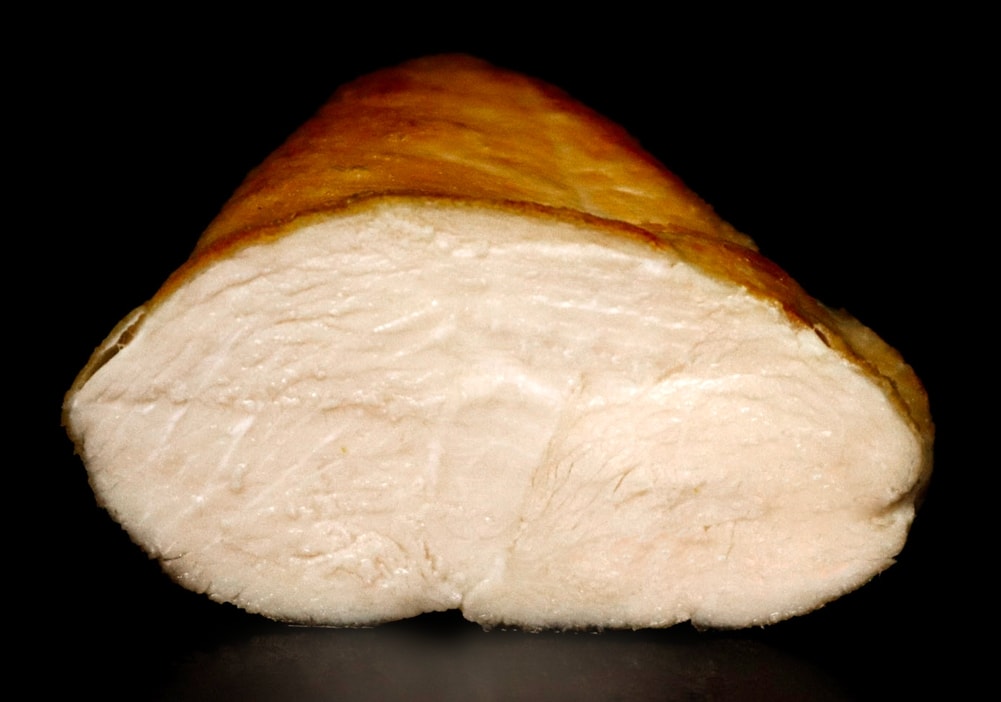 Fibrous, low moisture:167℉/75°C
This scientific approach to cooking demystifies the sous vide process, making it easier for home cooks to achieve their desired results with confidence. Moreover, it saves users time they might have spent on trial-and-error attempts to find their preferred doneness level.
Frequently Asked Questions
1. Do I need a vacuum sealer for sous vide?
In fact, while vacuum-sealed bags are ideal, you can use the water displacement method with a zip-top bag as we've described above.
2. Can I sous vide frozen chicken breasts?
Absolutely! Typhur Sous Vide Station offers the temperature and cooking guide for frozen chicken breast, to ensure archive the perfect results.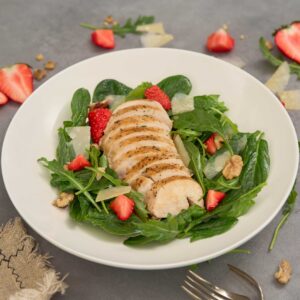 Sous Vide Chicken Breast
The days of plain, dried-out chicken are a thing of the past. Sous viding chicken breast yields an ultra-moist and tender cut of chicken that is absolutely delicious.
Video
Equipment
Vacuum Bag

Vacuum Sealer

Pan

Tongs

Spoon

Chef Knife

Paper Towels
Ingredients
For Sous Viding the Chicken Breast
2

each

Chicken Breast, with or without skin

Kosher Salt

Fresh Cracked Pepper

2

tbsp

Unsalted Butter or Olive Oil, for sous vide cooking

1

sprig

Fresh Thyme

1

each

Garlic Clove, whole skin on crushed
For Searing the Chicken
1

tbsp

High Temperature Oil: canola oil, grape seed oil, avocado oil

for searing

1

tbsp

Unsalted Butter, for basting
Instructions
Add enough water to the sous vide container to ensure that the ingredients are fully submerged and the minimum quantity of water is reached. Complete set up by securing the circulator tower to the sous vide container.

Using the ruler on the side of the snap weight, measure the thickness of your chicken at its thickest section.

Thickness: 1 inch Freshness: fresh Time: 2 hours

Choose your preferred doneness.

Taste: Soft and Juicy Temperature: 140.0 °F

Remove any excess fat or connective tissue from the chicken.

Moderately season each piece of chicken with kosher salt and fresh cracked pepper before placing them in the vacuum bag along with olive oil or unsalted butter, garlic, and thyme.

2 each Chicken Breast, with or without skin,

Kosher Salt,

Fresh Cracked Pepper,

2 tbsp Unsalted Butter or Olive Oil, for sous vide cooking,

1 sprig Fresh Thyme,

1 each Garlic Clove, whole skin on crushed

Using the vacuum sealer, make sure that the chicken is completely sealed and that any excess air has been removed from the bag.

Secure the magnetic weight to the bottom of the vacuum bag before carefully lowering it into the water bath. Secure the sous vide bag by inserting the bag clip into the rack.

Allow the chicken breast to sous vide for the duration of the given cooking time.

Once the chicken has finished cooking, carefully remove it from the water bath. Remove the chicken from the bag along with the herbs and garlic to a paper towel-lined plate or a sheet tray. Before searing, thoroughly dry each piece of chicken with a paper towel.

Place a sauté pan over high heat and add high-temperature cooking oil. When the oil begins to smoke lightly, add the chicken to the pan and sear for approximately 1 to 2 minutes. When searing the last side, add the butter and aromatics to the pan and spoon the aromatic butter over the chicken.

1 tbsp High Temperature Oil: canola oil, grape seed oil, avocado oil,

1 tbsp Unsalted Butter, for basting

Whether you are enjoying it thinly sliced over a bed of salad greens or served with roasted vegetables and creamy mashed potatoes, sous vide chicken breast is guaranteed to steal the show.
Nutrition PER SERVING
Calories:
153
kcal
Protein:
0.5
g
Fat:
17
g
Trans Fat:
1
g
Cholesterol:
46
mg
Sodium:
4
mg
Potassium:
14
mg
Fiber:
0.1
g
Sugar:
0.02
g
Vitamin A:
549
IU
Vitamin C:
1
mg
Calcium:
8
mg
Iron:
0.1
mg
(Nutrition information is calculated automatically by Spoonacular API and should be considered an estimate.)