Perfection! Sous vide cooking ensures that you get tender, juicy turkey breast EVERY time, with the added bonus of crispy skin.
If you're still stressing over your Thanksgiving dinner menu, then sous vide turkey breast is definitely the best choice for you!
Why Sous Vide Turkey Breast?
Sous vide cooking involves seasoning the meat, sealing it in a bag, and then cooking it in a water bath with precise temperature control. This gentle cooking method helps the meat become super tender while keeping all its natural juices and flavors.
Especially for turkey breast (white meat), it's very easy to overcook using traditional cooking methods. But this is where sous vide, a low-temperature vacuum cooking method, really excels.
Sous vide cooking means precise temperature control, offering reliable, moist, and tender results. Plus, it's super easy and almost hands-off during the cooking process.
Especially when using the Typhur All-in-one sous vide machine, which packages all essential sous vide accessories like a Sous Vide Container, Vacuum Sealer, and Vacuum Bags. This simplifies the entire process to meet the needs of home chefs. With built-in 50+ recipe guides featuring temperature and cooking time presets, including for Sous Vide Turkey Breast, achieving professional results at home becomes a breeze.
The best thing is its schedule cooking mode features a delayed start of up to 9 hours, allowing you to cook your food ahead of time and have it ready when you get home. Meanwhile, it ensures that your food stays out of the temperature danger zone for food safety.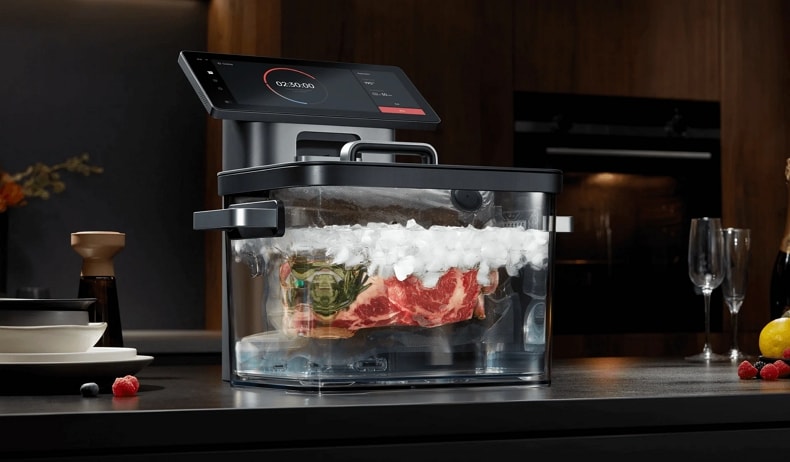 At What Temperature Should I Sous Vide Turkey Breast?
Cooking turkey breast with sous vide lets you cook it to the exact temperature you want, for just the right level of doneness. We recommend cooking your turkey breast at 143°F (62°C) for 3 hours with sous vide to get it white, tender, and moist.
Do You Leave Skin on the Breast or Remove it?
One of the great joys of roasting turkey is that crispy skin. Unfortunately, sous vide cooking can't give you that.
However, you can quickly sear the outside of the sous vide cooked turkey breast with high heat to achieve that crispiness. You'll end up with what I can think of as the closest thing to a perfect Thanksgiving turkey feast.
Try it now!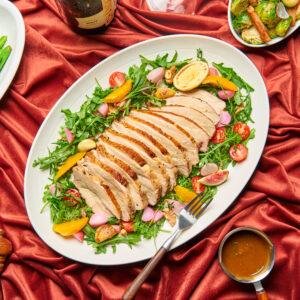 Sous Vide Turkey Breast
Turkey must be an indispensable part of Thanksgiving. Try this turkey breasts recipe, which is delicious and juicy. Serve with your family with your favorite side dishes.
Video
Equipment
Vacuum Bag

Vacuum Sealer

Sauté Pan

Tongs

Spoon

Kitchen Paper

Chef Knife
Ingredients
For Sous Vide Cooking
1

each

Turkey Breast

skin on

2

tsp

Kosher Salt

2

tbsp

Unsalted Butter or Olive Oil, for sous vide cooking

20

turns

Fresh Cracked Pepper

4

sprig

Fresh Thyme

5

each

Garlic Clove, whole skin on crushed
For Searing the Turkey
2

tbsp

High Temperature Oil: canola oil, grape seed oil, avocado oil

1

tbsp

Unsalted Butter, for basting
Instructions
Add enough water to the sous vide container to ensure that the ingredients are fully submerged and the minimum quantity of water is reached. Complete set up by securing the circulator tower to the sous vide container.

While the water bath is heating to the target cooking temperature, please move on to preparing the turkey breast.

Remove any excess fat or connective tissue from the turkey breast.

Moderately season the turkey breast with kosher salt and fresh cracked pepper before placing it in the vacuum bag along with olive oil or unsalted butter, garlic, and thyme.

2 tsp Kosher Salt,

2 tbsp Unsalted Butter or Olive Oil, for sous vide cooking,

20 turns Fresh Cracked Pepper,

4 sprig Fresh Thyme,

5 each Garlic Clove, whole skin on crushed

Using the vacuum sealer, make sure that the turkey breast is completely sealed and that any excess air has been removed from the bag.

When the target temperature is reached, carefully place the sealed turkey in the water bath making sure that it is completely submerged in the water.

Cook the turkey breast at 143.6°F (62°C) for 3 hours.

Once the turkey breast has finished cooking, carefully remove it from the water bath. Remove the turkey breast from the bag along with the herbs and garlic to a paper towel-lined plate or a sheet tray. Before roasting, thoroughly dry each piece of turkey with a paper towel.

Place a sauté pan over high heat and add high-temperature cooking oil. When the oil begins to smoke lightly, add the turkey to the pan and sear for approximately 3 to 4 minutes. When searing the last side, add the butter to the pan and spoon the aromatic butter over the turkey.

2 tbsp High Temperature Oil: canola oil, grape seed oil, avocado oil,

1 tbsp Unsalted Butter, for basting

Serve as desired!
Nutrition PER SERVING
Calories:
91
kcal
Carbohydrates:
4
g
Protein:
1
g
Fat:
9
g
Saturated Fat:
5
g
Polyunsaturated Fat:
0.4
g
Monounsaturated Fat:
2
g
Trans Fat:
0.3
g
Cholesterol:
23
mg
Sodium:
1166
mg
Potassium:
81
mg
Fiber:
1
g
Sugar:
0.1
g
Vitamin A:
337
IU
Vitamin C:
2
mg
Calcium:
32
mg
Iron:
1
mg
(Nutrition information is calculated automatically by Spoonacular API and should be considered an estimate.)