A powerful and versatile kitchen appliance, the air fryer has made a name for itself in recent years, but the Dome looks to take the air fryer up a notch by offering a larger cooking space and 30% faster cooking time that cater to bigger crowds.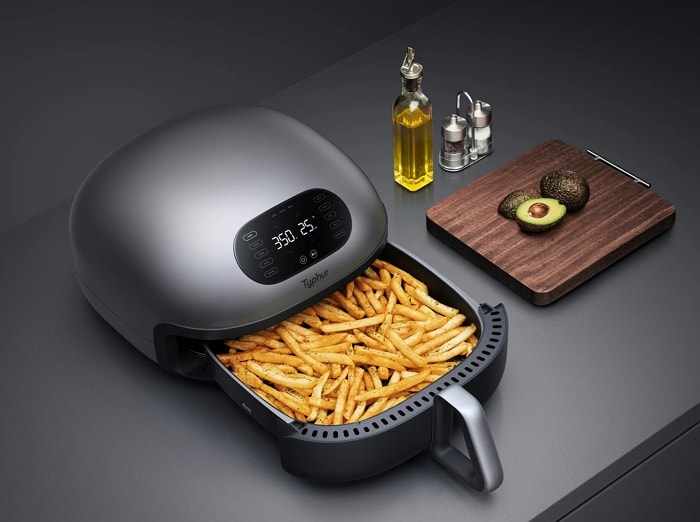 This quick rundown will give you six reasons why the Typhur Dome Air Fryer stands out from its competition, let's dive right in.
1. Impressive, Innovative Design
A smart kitchen should not only perform to a high standard but look the part, too.
The Typhur Dome air fryer features a stylish and modern design with a sleek black surface and a distinctive dome-shaped lid. This design is aimed at creating a larger cooking space and making any kitchen look great, reflecting Typhur's modern philosophy.
A large, digital display with easy-to-use buttons makes using the air fryer breeze, not to mention the Typhur app with full remote control and a catalog of recipes waiting for you!
2. 30% Faster Speeds
Air fryers have their place in the kitchen, known for being rapid. In general, air fryers cook food 20% to 30% faster than traditional ovens as it is. But with Typhur Dome, these speeds have been improved even more, with a 30% approximate faster cooking time than other leading air fryers.
What might take 30-35 minutes to cook in a conventional oven can be cooked in a Dome in just 10-15 minutes. Truly unparalleled speeds!
Our lab testing on chicken wings and legs has produced the following results:
| | | | |
| --- | --- | --- | --- |
| Same degree/Cooking time | Typhur Dome | Philips | Cosori |
| Chicken Wings (15) | 14 min | 18.75 min (+25.3%) | 15 min (+6.7%) |
| Chicken Thighs (8) | 20.5 min | 35 min (+41.4%) | 23 min (+10.9%) |
Data source: Typhur Lab
Our unique cyclone cooking technology and design ensure a highly consistent, precise cook. The flat surface evenly distributes heat from the front to the back, meaning no need for any preheating, flipping, or shaking of your food!
3. Enlarged Cooking Area
When we say twice the size of a standard air fryer, we mean it! The Typhur Dome Air Fryer has an effective double-sized cooking area.
A whopping 320*320mm ensures you can cook for larger groups without needing to cook the same meal in multiple portions.
Cook up to 32 chicken wings at once and easily serve 4-8 people, perfect for family-sized meals! You can even cook a full 12″ pizza in here!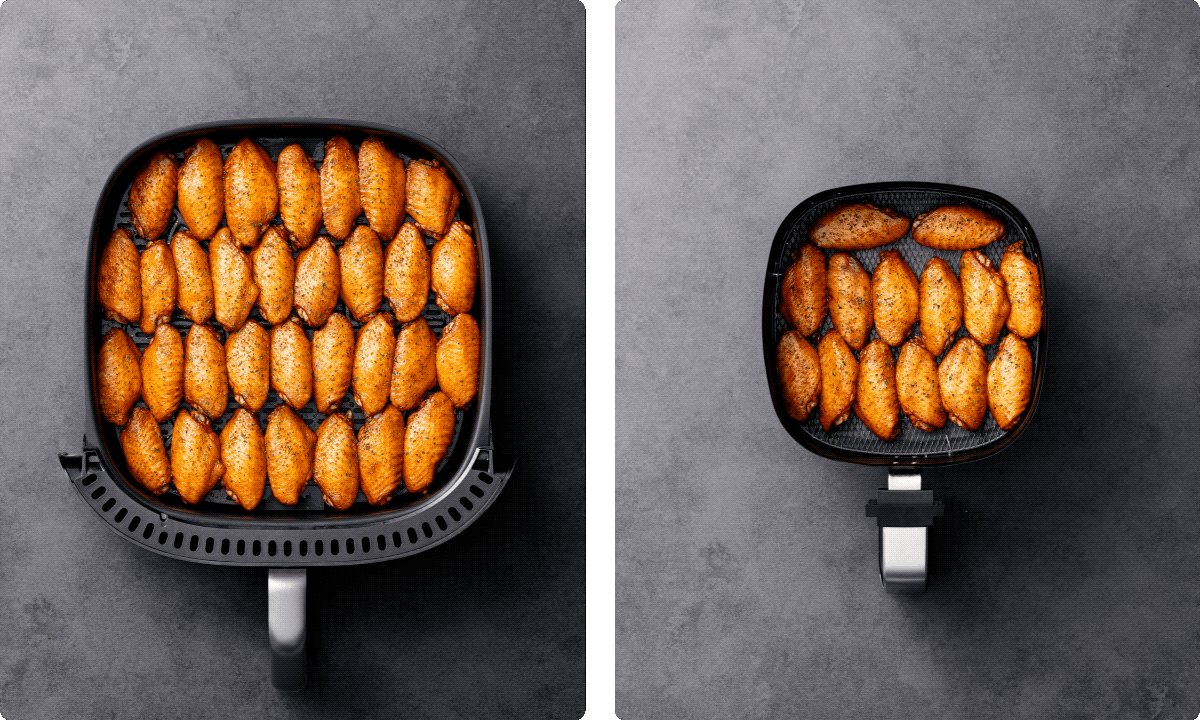 Typhur Dome Air Fryer Potential Food Capacity
French Fries
Chicken Wings
Chicken Legs
Steak
Toast
Bacon
Pizza
1 kg
32
14
4 Slices
4 Slices
6 Slices
12 inch
Data source: Typhur Lab
4. Enhanced Self-Clean
For air fryer veterans, most will know the pains of grease and oil buildup in the cooking basket or tray. If this buildup is not cleaned regularly, it can affect the performance of the air fryer and even lead to smoking or burning.
The Typhur Dome Air Fryer makes it easy, having a smart, self-cleaning function built in. The Dome can be set to self-clean, activating a high-temperature cooking time, decomposing grease at high temperatures up to 230 degrees, allowing for a simple dust out to finalize the clean.
A self-cleaning process takes 2 hours, and the decomposed grease will turn into harmless, easily disposed waste. Easy!
5. Controllable Airflow
The Typhur Dome Air Fryer also has a controllable airflow system, unlocking unique use cases that other air fryers cannot typically handle. This is especially useful for delicate foods like fish, apple chips, or sweet potato chips, which require more careful monitoring and attention.
With the adjustable wind speed setting, you'll be able to jump from making jerky quietly on low, to a speedy broil on high. It's a truly versatile machine that can handle roasting, baking, toasting and so much more!
6. App Functionality
Finally, the Typhur Dome Air Fryer is compatible with Typhur app, giving you unprecedented access to your kitchen from your smartphone. Control the whole process, adjusting temperature and cooking times, receiving notifications when your food is done, and even saving or sharing your favorite recipes with other users.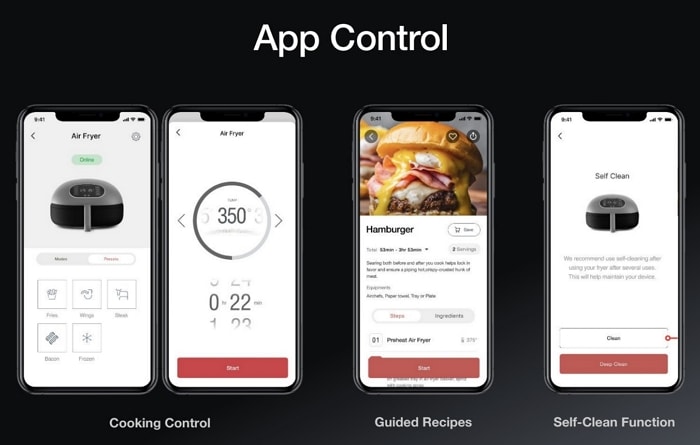 Wrapping It Up
The Typhur Dome Air Fryer is an excellent choice for chefs and home cooks who are looking for a larger, faster, seeker, and easier-to-use air fryer that stands as a cut above the rest of the competition.
Whether it's one of the reasons we've outlined here or something we've left out, we see this as the essential air fryer for a modern kitchen. Bigger and faster than the rest – the Typhur Dome is available for pre-order now.