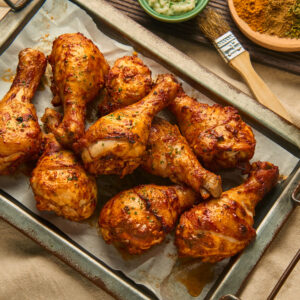 Tandoori Chicken Drumsticks
Chicken drumsticks cooked in a flavor-packed yogurt marinade are the perfect weeknight dinner. Combine with basmati rice and your favorite steamed vegetables.
Ingredients
1/2

cup

Plain Yogurt

2

each

Garlic Clove

finely chopped

1

tbsp

Ginger

finely chopped

1

tbsp

Kashmiri Chili Powder

1/2

tsp

Ground Turmeric

2

tsp

Dried Fenugreek

1

tsp

Garam Marsala

1 1/2

tsp

Kosher Salt

1

tbsp

Lemon Juice

8

each

Chicken Drumsticks

as needed

Vegetable Oil Spray
Instructions
Combine the marinade ingredients except for the lemon juice in a large mixing bowl. Mix until well combined.

1/2 cup Plain Yogurt,

2 each Garlic Clove,

1 tbsp Ginger,

1 tbsp Kashmiri Chili Powder,

1/2 tsp Ground Turmeric,

2 tsp Dried Fenugreek,

1 tsp Garam Marsala,

1 1/2 tsp Kosher Salt,

1 tbsp Lemon Juice

Thoroughly coat each drumstick in the marinade. Cover the bowl with plastic wrap and store it in the refrigerator. Allow the chicken to marinate for at least 30 minutes and up to 12 hours.

8 each Chicken Drumsticks

Preheat the Typhur Dome to 355°F/ 180°C. (Around 5 minutes)

Lightly spray the cooking tray with non-stick spray before placing the chicken in the cooking tray and returning it to the Typhur Dome.

Allow the chicken to cook for the given time. Once the cooking time has been completed, use an instant-read thermometer to check the internal temperature of the chicken. It should register at 165°F. If needed continue cooking the chicken in 2-minute intervals.

Temperature: 355 °F Time: 15 minutes

Carefully remove the chicken from a serving plate or tray.

We like to enjoy these flavor-packed drumsticks with steamed basmati rice and our roasted cauliflower recipe.