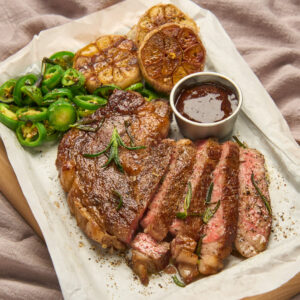 Ribeye Steak
If you are looking to enjoy a delicious Ribeye without the hassle and headache of traditional methods, then this is the recipe for you. We like to pair it with our Twice Baked Potato for the ultimate steak house dinner.
Ingredients
2

each

Ribeye Steak, 8-12 oz per steak (1″-1.25″ thick)

2

tsp

Kosher Salt

20

turns

Black Pepper, freshly cracked

30

ml

Olive Oil
Instructions
Using a paper towel, thoroughly dry each of the steaks. Drying the steaks will help in developing a delicious golden brown sear when cooking.

Start by evenly coating each steak with olive oil. Generously season each steak with kosher salt and freshly cracked black pepper.

30 ml Olive Oil,

2 tsp Kosher Salt,

20 turns Black Pepper, freshly cracked,

2 each Ribeye Steak, 8-12 oz per steak (1″-1.25″ thick)

Preheat the Typhur Dome to 450°F/230℃. (Around 5 minutes)

After the air fryer has finished preheating, carefully place the steaks in the cooking tray and return it back to the Typhur Dome.

For thicker steaks, you may need to add a few more minutes of cooking time. We recommend checking the internal temperature of your steak with an instant-read thermometer until it has reached your desired doneness.

Temperature: 450 °F Time: 8 minutes

Using a pair of tongs, carefully remove the steaks from the Typhur Dome to a plate or serving tray.

Before slicing, allow the steaks to rest for 5 minutes.

For a classic steak house dinner, we recommend enjoying your steak with a delicious compound butter and our Twice Baked Potato.