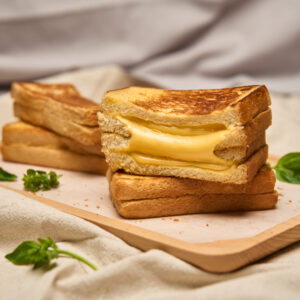 Grilled Cheese Sandwich
There is nothing quite as delicious as a perfectly made grilled cheese sandwich. Don't forget the tomato soup.
Ingredients
8

each

Bread

sliced

12

slices

Cheddar Cheese

sliced

4

tbsp

Unsalted Butter

softened
Instructions
Preheat the Typhur Dome to 400°F/ 205°C. (Around 5 minutes)

Carefully place the grilled cheese sandwiches in the Typhur Dome tray in a single layer. Return the tray to the Typhur Dome.

Toast the grilled cheese sandwiches.

Temperature: 400 °F Time: 3 minutes

Using a spatula, gently flip each sandwich. Return the tray back to the Typhur Dome.

Once both sides of the sandwiches are golden brown and the cheese has melted, remove the tray. If needed, add some additional cooking time in 1-minute increments.

Temperature: 400 °F Time: 3 minutes

Remove the grilled cheese sandwiches from the Typhur Dome and transfer them to a serving tray or plate.