When it comes to cooking, precision is key.
Whether you're making a steak or a cake, the difference between perfect doneness and overcooking can be just a few degrees. That's why an instant-read thermometer is essential for home cooks and professional chefs.
There are various types and brands of meat thermometers on the market. Typhur's launch of InstaProbe indicates the level of confidence they have in its product.
Let's take an in-depth look at the Typhur InstaProbe cooking thermometer together, to explore the features, benefits, and drawbacks, of whether this thermometer is for you, or just mediocre equipment.
Its Impressive Design
The Typhur InstaProbe has a spectacular and tech-driven design that features a 1.87-inch OLED display that provides bright, clear, and easy-to-read temperature readings. With its auto-rotating display that rotates 180 degrees, you can read from any angle!
Additionally, the thermometer has a probe that measures 4.3 inches, with a diameter of 0.12 inches, that's reduced to 0.06 inches. This makes it a versatile device for measuring temperatures for all meat or other food items.
It's highly functional and convenient. With its high-quality display and flexible yet foldable probe, make it excessively easy to use, and highly accurate in measuring the temp of meat, baked goods, soups, etc.
Performance
With its reliable and efficient features, the Typhur InstaProbe provides the following.
Way faster than the rest: 0.75 seconds reading time
Industry-leading response time of 0.75 seconds, to provide a full temperature reading (powered by Typhur's own unprecedented DCTi technology).
Precise and dependable readouts. This level of accuracy is especially important in food preparation, where slight variations in temperature can greatly affect the outcome of the dish.
Typhur InstaProbe meat thermometer has a temperature range from -58°F to 572°F.
This wide range makes it suitable for a variety of different cooking methods, such grilling, baking, and sous-vide cooking.
Honest Review of The Typhur Instant Read Meat Thermometer! / Is It Faster than 1 Second?
Typhur InstaProbe combines speed, accuracy, and versatility to create highly effective equipment for measuring temperatures in a variety of different cooking settings.
Highlighted Features
Motion-sensing Power On/Off: Detects movement, and goes into sleep mode when it's not being used, conserving battery life. The device activates with one touch, simply shake to wake, or leave it for 30 seconds for auto sleep mode.
Resolution to 0.1°: Measure temperature with a high degree of accuracy, down to increments of 0.1 degrees in Fahrenheit or Celsius.
Switch temperature scale °F/°C: Toggle and switch between Fahrenheit and Celsius.
Fully Waterproof IP67: IP67 rating means that the thermometer is fully waterproof, and can withstand being immersed in water up to a depth of 1 meter, for up to 30 minutes, which makes it easy to wash and clean.
Built-in Magnets: It's magnetic. Attach to metal surfaces, such as ovens or refrigerators, for convenient storage and easy access.
Price and Availability
This instant-read thermometer is a great value, even at the price of $109.
Why?
The reason is simple.
Although it may be priced higher than other instant-read thermometers on the market, its quality and performance makes it a worthwhile investment for absolutely all levels and types of cooks. As the amount of technological advancements in creating the Typhur InstaProbe is somewhat impressive in itself.
With its accurate temperature readings, fast response time, and durable construction, the InstaProbe can help you achieve consistently delicious results. Its premium features and advanced innovation justify its high price point, making it a valuable necessity in your kitchen.
Pros and Cons
| | |
| --- | --- |
| Pros | Cons |
| Fast and accurate readings | The probe point being exposed could lead to getting stabbed if you aren't careful |
| Waterproof, handwashable | |
| Long battery life | |
| 1-year warranty | |
How to use Typhur InstaProbe meat thermometer?
Step 1. Turn on the thermometer by pressing the power button, for first time use.
Step 2. Choose between Celsius or Fahrenheit by pressing the C/F button.
Step 3. Insert the probe into the thickest part of the meat, making sure not to touch any bones or gristle.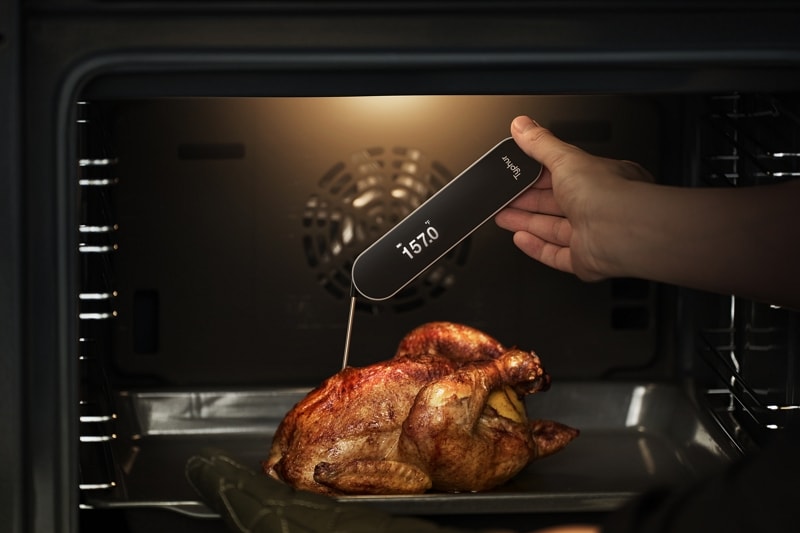 Step 4. Wait a few seconds until the temperature reading stabilizes.
Step 5. Read the temperature on the display.
Step 6. If the temperature is below the desired temperature, continue cooking the meat until it reaches the temperature you want.
Step 7. After measuring the food, clean the probe with a damp cloth.
Note: Always follow the manufacturer's instructions and safety guidelines when using any kitchen appliance.
Should I buy the Typhur InstaProbe?
So, is the Typhur InstaProbe worth having?
From the comparison on the features and performance, between InstaProbe and other thermometers like the Thermapen, Thermopop or Javelin. The InstaProbe can objectively be seen as the best option, simply just from its industry-leading speed, the world's first to lead with a reading speed that's less than 1 second. Along with its incomparable accuracy and precision. Don't overlook the fact that the InstaProbe is also the pioneer to combine built-in magnets and IP67 waterproof, which has not been seen before.
You can dive deeper and compare the features and prices of other products in our instant-read thermometer ultimate guide.
To finish, the InstaProbe is a good choice for cooks of all levels, whether you're new to instant-reads or you want to upgrade to a premium thermometer. It's a long-term investment for sure, and it is totally worth it.