Are you tired of guessing whether your meat is cooked to perfection or not? Do you want to impress your family and friends with perfectly cooked dishes every time?
If so, continue reading!
Someone who loves cooking may know how important it is to get the internal temperature of your food spot on.
That's when an instant-read thermometer comes in handy. But, do you really know which one is best for you?
Let's help you to find out!
What is an instant-read thermometer?
Before we start, you need to know what is an instant-read thermometer.
An instant-read thermometer is a kitchen tool used to quickly and accurately measure the temperature of food or liquids.
Unlike traditional thermometers, which can take several minutes to give an accurate reading, an instant-read thermometer provides a reading within a matter of seconds.
Instant-read thermometers are typically digital and consist of a metal probe that is inserted into the food or liquid to be measured. The probe is connected to a digital display that shows the temperature.
An instant-read thermometer will be fast, accurate, taking away guesswork from cooking, especially when you cook meat, where a few degrees create a difference between perfectly cooked and overcooked.
Your choice of kitchen equipment can directly impact on what was supposed to be perfect, perhaps your medium-rare tomohawk was ruined because the time and temperature you executed was not precise enough.
So look no further. We have selected the finest instant-read thermometers to fix this! The key features have been highlighted for each of the following. We hope this helps to find the best instant-read thermometer for you!
Best instant-read thermometers | Best picks of 2023
Have a look at this table we created where we compare and contrast the features side by side.
| | | | | | | | | | | |
| --- | --- | --- | --- | --- | --- | --- | --- | --- | --- | --- |
| Instant read Thermometers | Speed | Precision | Waterproof | Magnetic | Foldable probe | Easy to read screen | Color options | Auto On/Off | Rotating screen | Price |
| Typhur InstaProbe | 0.5s | ±0.5℉ | Yes (IP67) | Yes | Yes | Yes | No | Yes | Yes | $109 |
| Thermapen One | 1s | ±0.5℉ | Yes (IP67) | No | Yes | Yes | Yes | Only Auto Off | Yes | $99 |
| OXO Thermocouple Thermometer | 2-3s | ±0.9°F | Not fully waterproof, it is splash-proof (IP66) | No | Yes | Yes | No | Only Auto Off | No | $104.99 |
| ThermoPop | 3-4s | ±2°F | Not fully waterproof, it is splash-proof (IP66) | No | No | Yes | Yes | Only Auto Off | Yes | $27 |
| Lavatools Javelin | 4s | ±0.9°F | Not fully waterproof, it is splash-proof (IP65) | Yes | Yes | Yes | Yes | No | No | $25.99 |
Typhur InstaProbe丨0.5 seconds: $99
This instant-read thermometer is one of the newest innovations of 2023, that left the world speechless with its 0.5 seconds temperature read. The Typhur InstaProbe shocks the world with its speed and precision, along with its added features and unique design that achieved many awards.
A great choice for all the tech-savvy cooking enthusiasts out there!
Highlighted Features:
Response time: 0.5 seconds
The fastest reading speed on the market since 2023, powered by DCTi™, for 0.5 seconds full reading.
Highly Accurate. Accuracy within ±0.5℉ with NIST-certified 7 temperature points calibration technique for maximized precision.
Auto-rotating ambidextrous display with an embedded OLED-screen, provides instant and clear readings under any light.
IP67 rated, one of the highest levels of water protection. It's easy to wash and fully waterproof.
It's magnetic. Attach it to your fridge for convenient storage.
Motion sensing technology, shake to turn on, and turn off automatically after 30 seconds of inactivity.
Thermapen ONE丨1 second: $99
Besides the newest creations of 2023, the Thermapen ONE is the OG within this field. The most well-known instant-read thermometer on the market, known for its accuracy, speed, durability and its rotating display with a variety of different colors to choose from.
Despite its plain appearance, this thermometer is exceptional in terms of its functionality. It's also very sturdy and not easy to damage. One of the most popular choices in 2022 for home cooks.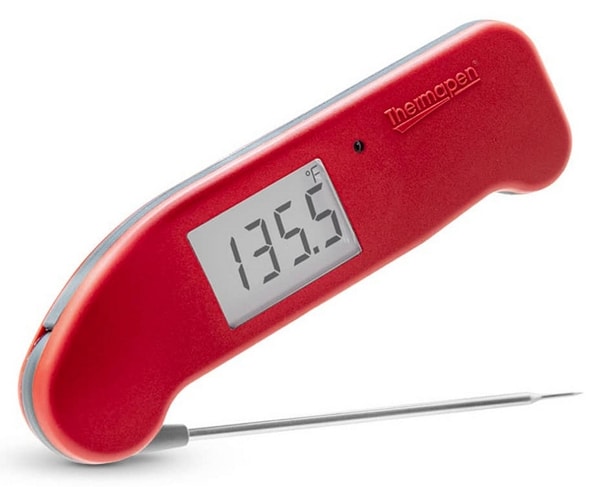 Highlighted Features:
Full readings in just 1 second. The fastest instant-read thermometer before the InstaProbe.
With improved accuracy, compared to the earlier versions of Thermapen, the Thermapen ONE is accurate to within ±0.5°F (0.3°C).
Up to 2,000 hours of continuous usage.
IP67 waterproof with a new sealed, water-resistant casing that can withstand splashes and spills.
Its rotating display and backlit screen makes it easy to read, while its ergonomic design makes it comfortable to hold and use.
OXO Thermocouple Thermometer丨2–3 seconds: $104.99
OXO Good Grips Chef's Precision Digital Instant-Read Thermometer: Another reliable option that's a bit pricier than the average thermometer in comparison to the reading speed it provides. Although it is still in the top rankings of speed, it is not the fastest, but it does have many other features to back its pricing as followed.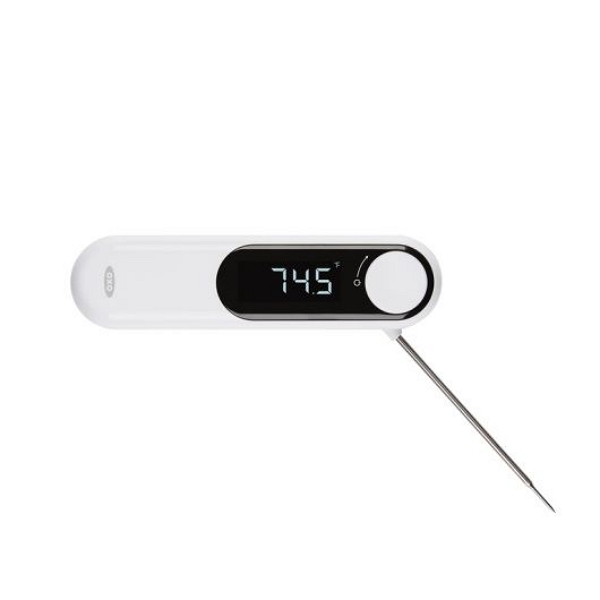 Highlighted Features:
Response time: 2-3 seconds
Accuracy: ±0.9°F (0.5°C)
Easy-to-read display
Consists of a large, easy-to-read display that shows the temperature in °F and °C.
Allows you to lock in the temperature reading, making it easier to read the display, especially when the thermometer is inserted into a hot oven or grill.
The auto shut-off feature helps to conserve battery life, turns off automatically after 10 minutes of inactivity.
The thermometer comes with a storage cover that protects the probe when not in use, acts like a handle and becomes easier to carry.
Rated as IP66 waterproof. It is highly water resistant but not as high in the rankings as the Thermapen One or the InstaProbe.
Thermoworks ThermoPop | 3-4 seconds: $27
Thermoworks ThermoPop is an excellent choice for anyone looking for an affordable and easy-to-use instant-read thermometer. It's smaller in size, put it inside your pockets. Although it may not be as accurate or fast as some of Thermoworks' pricier models, it is still a great option for most home cooks.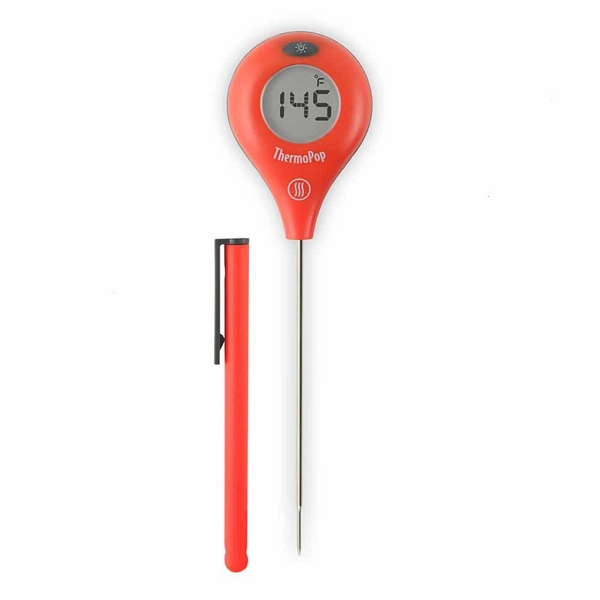 Highlighted Features:
Response time: 3-4 seconds
Accuracy: ±2°F (1°C)
Easy-to-read circular display
Circular rotating display, you can read at all angles. However, the thermometer and the display are slightly smaller than the other options in this list.
It can withstand a little bit of water or moisture without being damaged, but it is not fully waterproof.
Up to 5,000 hours of continuous use.
Comes with a cover, unlike the traditional instant-reads, the thermopop is not foldable.
Available in multiple colors
Lavatools Javelin | 4 seconds: $25.99
Out of these listings, the Javelin is the most affordable choice for budget-conscious home cooks. It also promises to deliver readings within 4 seconds.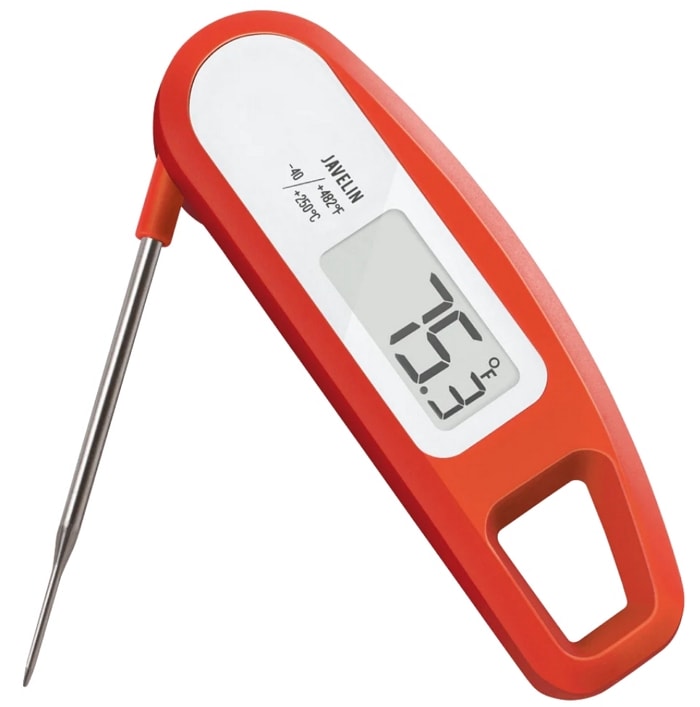 Highlighted Features:
Response time: 4 seconds
Accuracy: ±0.9°F (0.5°C).
Large display
Splash-resistant
IP65 splash-proof, meaning it can withstand some splashes but not fully waterproof.
Battery life up to 4000 hours.
Integrated magnet
The Javelin has a magnetic back that allows you to attach it to your fridge or other metal surfaces.
Available in multiple colors
FAQs about the instant-read thermometer
Q: Are instant-read thermometers accurate?
A: Yes. Instant-read thermometers are generally very accurate. However, it also depends on the specific model and its calibration. Different thermometers have different ranges of accuracy.
Q: How long does an instant-read thermometer take to read?
A: A full reading is based on the specific model and food temperature. However, generally, thermometers are designed to deliver a temperature reading within a few seconds. Typically within 3-5 seconds, on average.
Q: What is the difference between an instant-read thermometer and a regular thermometer?
A: The main difference is 'time'. The time it takes to present you with a full temperature read.
Instant-read thermometers are designed to provide quick and accurate temperature readings within a few seconds. Whereas a regular thermometer may take several minutes or even hours. Instant-read thermometers tend to be smaller and more compact, with a pointed probe tip that can be easily inserted into food. Regular thermometers, on the other hand, maybe larger and bulkier.
Which instant-read meat thermometer to choose?
After a quick breakdown of the selection, which instant-read meat thermometer do you think best suits your requirements?
From the affordable and reliable Lavatools Javelin to the more advanced and versatile Thermapen ONE or the industry-leading InstaProbe. There are plenty of options to match your budget and needs, each having its own unique features.
Selecting the right instant-read thermometer highly depends on your personal cooking routine and habits, alongside what you typically cook, how you cook, and where. All these factors are important to keep in mind before rushing into buying a cheap alternative kitchen tool that's left in the corner of your countertop.
What you really need is a kitchen gadget that works with you. One that enhances the way you cook, whether it's at home or in a professional kitchen. Ultimately, the choice of instant-read thermometer comes down to your personal preference and specific cooking needs.
Some may prefer a simple and straightforward thermometer like the Themopop or the Javelin, while others may require a faster reading time for precision cooking, getting your 1-inch sirloin to 135°F exactly, for a juicy medium sirloin.
Regardless of which instant-read thermometer you choose, investing in a high-quality device can help you achieve better cooking results, and ensure that your food is cooked to perfection every time. With their accuracy, speed, and durability, instant-read thermometers are essential.
So go ahead and upgrade your kitchen with one of these top-rated instant-read thermometers, and take your cooking to the next level.