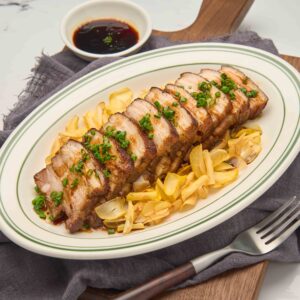 Chinese Style Pork Belly
This delicious melt in your mouth pork belly can be served on steam buns, a steaming bowl of Ramen, or shredded for pork belly tacos.
Equipment
Vacuum Sealer

Vacuum Bag

Tongs

Small Mixing Bowl

Kitchen Paper

Sheet Tray with Roasting Rack

Whisk
Ingredients
1

each

Pork Belly

without Skin, 1 pound (454g)

1/2

tsp

Chinese Five Spice Powder

1

tsp

Brown Sugar

2

tbsp

Soy Sauce

1

tbsp

Honey

1 1/2

tbsp

Sesame Oil

2

tbsp

Garlic Clove, finely chopped

1

tsp

Fresh Cracked Pepper

1

tsp

Kosher Salt
Instructions
Add enough water to the sous vide container to ensure that the ingredients are fully submerged and the minimum quantity of water is reached. Complete set up by securing the circulator tower to the sous vide container.

Select the thickness of your pork belly followed by your preferred doneness.

Taste: Soft and glutinous Temperature: 167.0 °F Time: 15 hours

Finely chop the garlic.

Trim away any excess fat, sinew, or skin from the pork belly.

In a small mixing bowl combine brown sugar, soy sauce, honey, sesame oil, and finely chopped garlic. Mix until well combined.

1 tsp Brown Sugar,

2 tbsp Soy Sauce,

1 tbsp Honey,

1 1/2 tbsp Sesame Oil,

2 tbsp Garlic Clove, finely chopped

Generously season the pork belly with kosher salt and black pepper. Thoroughly coat the pork belly in the soy glaze mixture. And add to the vacuum or zip lock bag.

1 tsp Kosher Salt,

1 tsp Fresh Cracked Pepper,

1 each Pork Belly

Using the vacuum sealer, make sure that the pork belly is completely sealed and that any air has been removed from the bag.

When the target temperature is reached, carefully place the sealed pork belly in the water bath making sure that it is completely submerged in the water.

Cook the food until ready.

Once the pork belly has finished cooking, carefully remove it from the water bath. Remove the pork belly to a paper towel-lined plate or a sheet tray with a roasting rack. Before roasting, thoroughly dry the pork belly with paper towels. Wipe away any excess garlic in order to prevent it from scorching while the pork belly roasts.

Preheat your oven to 425°F/218°C. Place the pork belly skin side up on a sheet tray or roasting pan with a wire rack. Place the pork belly in the oven and roast for 10 minutes until golden brown and slightly crispy.

Slice and serve!
Video