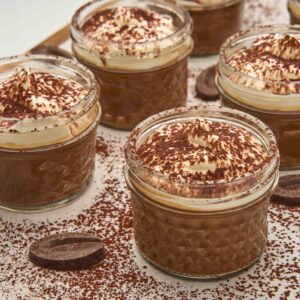 Chocolate Pudding Cups
Impress your dinner guests with this ultra decadent dessert!
Equipment
4 Ounce Ball Jars with Lids

Whisk

Fine Mesh Kitchen Strainer

Medium Mixing Bowl

Tongs

Sauce Pot
Ingredients
1/4

cup

Whole Milk

1/2

cup

Heavy Whipping Cream

2.5

oz

Dark chocolate

72%

3

each

Egg Yolk

5

tsp

Granulated Sugar

1/8

tsp

Kosher Salt
Instructions
Add enough water to the sous vide container to ensure that the ingredients are fully submerged and the minimum quantity of water is reached. Complete set up by securing the circulator tower to the sous vide container.

While the water bath is heating to the target cooking temperature, please move on to preparing the pudding.

Temperature: 179.6 °F Time: 45 minutes

In a small sauce pot set over low heat, slowly heat up heavy cream, whole milk, and dark chocolate. Continuously stir until the chocolate has completely melted. Once mixture is well incorporated, remove it from the heat.

1/2 cup Heavy Whipping Cream,

1/4 cup Whole Milk,

2.5 oz Dark chocolate

In a medium sized mixing bowl, combine the pudding base with egg yolks, granulated sugar, and kosher salt. Stir until well combined before straining through a fine mesh kitchen strainer.

3 each Egg Yolk,

5 tsp Granulated Sugar,

1/8 tsp Kosher Salt

Add approximately 1/2 a cup of the pudding mixture to each of the 4 oz. jars. Make sure to not overfill and that the lid can easily be screwed on and off.

When the target temperature is reached, using a pair of tongs, gently lower each jar into the water bath.

Cook the food until ready.

After the pudding cups have finished cooking, remove from the water bath and allow to cool at room temperature. Place in the refrigerator and allow to chill for 1 to 2 hours.

Serve as desired!
Video