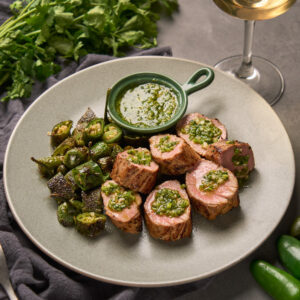 Cuban Mojo Pork Tenderloin
Tender and juicy pork tenderloin marinated in a vibrant mojo verde is the perfect summertime recipe.
Ingredients
Prepare Mojo the Marinade
2

cup

Fresh Cilantro

stems removed

2

tbsp

Lime Juice

2

tbsp

Orange Juice

3

each

Garlic Clove

1

each

Jalapeno

seeds removed

1/8

tsp

Ground Cumin

1/2

tsp

Kosher Salt

1/4

cup

Extra Virgin Olive Oil
Season the Pork Tenderloin
as needed

Kosher Salt

as needed

as needed

Black Pepper, freshly cracked

24

oz

Pork Tenderloin
Instructions
Make sure to trim away any connective tissue or silver skin from the pork tenderloin. Place the tenderloin in a large ziplock bag or mixing bowl.

Moderately season the pork tenderloin with kosher salt and black pepper.

1/2 tsp Kosher Salt,

as needed Black Pepper, freshly cracked

The marinade can be prepared by either hand-chopping the herbs and garlic, or by combining all of the ingredients in a blender and blending until smooth. Once the marinade is ready, add half of it to the reserved pork tenderloin and reserve the remaining amount for serving with the pork.

2 cup Fresh Cilantro,

2 tbsp Lime Juice,

2 tbsp Orange Juice,

3 each Garlic Clove,

1 each Jalapeno,

1/8 tsp Ground Cumin,

1/4 cup Extra Virgin Olive Oil

Preheat the Typhur Dome to 400°F/205°C. (Around 5 minutes)

Carefully place the tenderloin on the cooking tray. Return the tray to the Typhur Dome.

Once the cooking time has passed, use an instant-read thermometer to check the internal temperature of the pork. Once the thermometer reads 140°F, remove the pork from the Typhur Dome. If needed, continue to cook the pork in 5-minute increments.

Temperature: 400 °F Time: 20 minutes

Carefully remove the pork tenderloin from the tray to a cutting board. Allow resting for 5 to 10 minutes.

Thinly slice the pork and serve it with the reserved Mojo sauce.