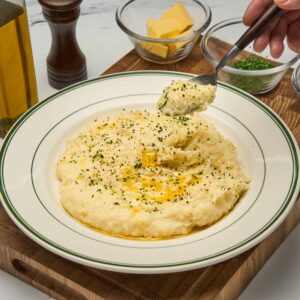 Butter Mashed Potatoes
Enjoy these decadent mash potatoes on their own or with your favorite toppings like sliced scallions, crumbled bacon, or cheddar cheese.
Equipment
Vacuum Sealer

Vacuum Bag

Vegetable Peeler

Mixing Bowl

Potato Masher

Deep Pot

Chef Knife
Ingredients
2

pound

Yukon Gold or Russett Potatoes (medium sized), thoroughly cleaned

7

tbsp

Unsalted Butter

3/4

cup

Whole Milk

3

tbsp

Heavy Whipping Cream

1

tsp

Kosher Salt

20

turns

Black Pepper, freshly cracked
Instructions
Add enough water to the sous vide container to ensure that the ingredients are fully submerged and the minimum quantity of water is reached. Complete set up by securing the circulator tower to the sous vide container.

While the water bath is heating to the target cooking temperature, please move on to preparing the potatoes.

Temperature: 190.4 °F Time: 1 hour, 30 minutes

Using a vegetable peeler, peel each of the potatoes. Cut the potatoes into 2 inch cubes and set aside.

Add the potatoes, unsalted butter, whole milk and heavy whipped cream into the vacuum bag.

7 tbsp Unsalted Butter,

3/4 cup Whole Milk,

3 tbsp Heavy Whipping Cream

Using the vacuum sealer, make sure that the potatoes are completely sealed and that any excess air has been removed from the bag.

When the target temperature is reached, carefully place the sealed potatoes in the water bath, and make sure that the bag is completely submerged in the water bath.

Cook the food until ready.

Once the potatoes have finished cooking, carefully remove it from the water bath.

Strain the potatoes through a wire mesh strainer or kitchen colander. Note: Make sure to reserve the cooking liquid. Add the potatoes to a mixing bowl and use a potato masher to mash the potatoes until you reach your desired consistency. For ultra smooth potatoes you can use a potato ricer or food mill.

Combine the mashed potatoes along with the cooking liquid in a sauce pot. Gently heat the potatoes while continuously stirring until the liquid is well incorporated. Season with kosher salt and black pepper.

1 tsp Kosher Salt,

20 turns Black Pepper, freshly cracked

After the potatoes are nice and hot you can serve immediately.
Video