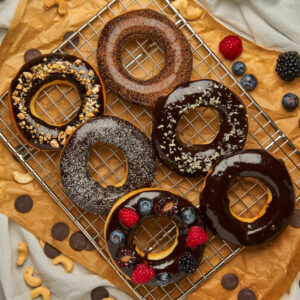 Air Fried Doughnuts
It's never been easier to make light and fluffy doughnuts from the comfort of your own home. Make them your own by switching up the glaze with different jams and coatings like cinnamon sugar.
Equipment
Tongs

Bowl

Oil Spray

Donut Cutter

Stand Mixer
Ingredients
For the Doughnut:
1

each

Large Egg

3

each

Egg Yolk

2 1/4

tsp

Dry Yeast

active

1/4

tsp

Kosher Salt

1

cup

Water

2 1/2

cup

All Purpose Flour

2/3

cup

Cake Flour

4

tbsp

Milk Powder

1/3

cup

White Granulated Sugar

1/4

cup

Unsalted Butter

softened
For the Chocolate Glaze:
1

cup

Powdered Sugar

4

tbsp

Coco Powder

3

tbsp

Whole Milk

1

tbsp

Corn Syrup
Instructions
Mix the egg, yolks, and water in a small bowl. Finish by folding in the yeast. Allow the yeast to bloom for approximately 10 to 15 minutes.

1 each Large Egg,

3 each Egg Yolk,

2 1/4 tsp Dry Yeast,

1/4 tsp Kosher Salt,

1 cup Water

In the bowl of a stand mixer, combine all-purpose flour, cake flour, milk powder, and sugar. Mix on low for a minute. Add the yeast and egg mixture to the dry ingredients and mix for 10 minutes on medium speed. Gradually add the softened butter until it's fully incorporated into the dough.

1 each Large Egg,

3 each Egg Yolk,

2 1/4 tsp Dry Yeast,

1/4 tsp Kosher Salt,

1 cup Water

Transfer the dough onto a floured surface. Stretch it out into a rectangle and fold it into thirds. Repeat the process twice, rotating the dough between folds. Put the dough in a large bowl that's been coated with vegetable spray. Cover the bowl with plastic wrap and let the dough rise until it has doubled in size.

Combine the glaze ingredients in a bowl. Mix until well combined and a smooth glaze is formed.

1 cup Powdered Sugar,

4 tbsp Coco Powder,

3 tbsp Whole Milk,

1 tbsp Corn Syrup

Preheat the Typhur Dome to 355°F/180°C. (Around 5 minutes)

Spray vegetable spray on the cooking tray before adding the doughnuts and doughnut holes, and then put the tray back into the Typhur Dome.

Cook the doughnuts.

Temperature: 355 °F Time: 4 minutes

Remove the donut from the Typhur Dome and transfer it to a serving dish.

Finish the doughnuts and holes by dipping them in the chocolate glaze.