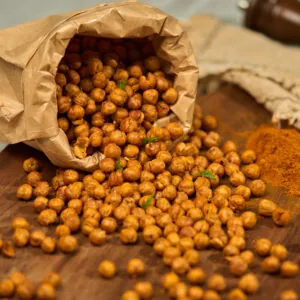 Crispy Chickpeas
Crispy chickpeas are the perfect protein-packed and guilt-free snack. You can enjoy them on their own, or toss them with your favorite spice blend or parmesan cheese.
Equipment
Spoon

Colander

Kitchen Paper

Sheet Tray

Mixing Bowl
Ingredients
For Crispy Chickpeas
1

each

Canned Chickpeas, 16 oz can

1

tbsp

Olive Oil

1/2

tsp

Kosher Salt
Our Favorite Spice Mixtures and Toppings
as needed

Tajin

as needed

Zaatar

as needed

Curry Powder

as needed

Parmesan Cheese, grated
Instructions
Drain the chickpeas by pouring them into a colander placed over a mixing bowl. Transfer the chickpeas to a paper towel-lined tray or plate. Use additional kitchen paper to lightly pat the chickpeas dry. Note: You want to dry the chickpeas as thoroughly as possible in order to make them ultra crispy.

1 each Canned Chickpeas, 16 oz can

Combine the chickpeas, kosher salt, olive oil, and your favorite spice mixture in a mixing bowl. Toss until the chickpeas are evenly coated. Note: If using parmesan, reserve until after the chickpeas have finished crisping.

Add the chickpeas to the cooking tray in a single layer. Make sure not to overcrowd the cooking tray.

Give the chickpeas a light shake midway through the cooking time.

Temperature: 390 °F Time: 12 minutes

Carefully transfer the chickpeas to a paper towel-lined tray or plate. Allow the chickpeas to cool for 5 to 10 minutes.

Serve as desired!