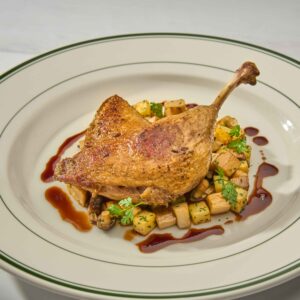 Sous Vide Duck Confit
Sous-vide duck legs in their own fat until tender, then seared for a crispy finish. Serve with roasted vegetables or salad.
Equipment
Vacuum Bag

Vacuum Sealer

Non-stick Pan

Tongs

Spoon

Paper Towels
Ingredients
For Sous Vide Cooking
2

each

Duck Leg, skin on

3

tsp

Kosher Salt

20

turns

Fresh Cracked Pepper

1

tsp

Fennel Seeds

4

each

Garlic Clove, thinly sliced

4

tbsp

Duck Fat

4

sprig

Fresh Thyme
For Crisping the Duck Legs
1

tbsp

Unsalted Butter, for basting

optional
Instructions
Add enough water to the sous vide container to ensure that the ingredients are fully submerged and the minimum quantity of water is reached. Complete set up by securing the circulator tower to the sous vide container.

While the water bath is heating to the target cooking temperature, please move on to preparing the duck leg.

Temperature: 167.0 °F Time: 16 hours

Remove any excess fat or connective tissue from the duck legs. Using a paring knife, scrape the skin and flesh of the drumstick towards thigh exposing the bone.

In a large dish or bowl moderately season the duck legs with kosher salt and fresh cracked black pepper. Add the thinly sliced garlic, fennel seed, and thyme. Toss until well coated. Cover the legs with plastic wrap and place in the refrigerator. Allow the duck legs to marinate for 8 hours.

2 each Duck Leg, skin on,

3 tsp Kosher Salt,

20 turns Fresh Cracked Pepper,

1 tsp Fennel Seeds,

4 each Garlic Clove, thinly sliced,

4 sprig Fresh Thyme

Place the duck legs in a vacuum seal or zip lock bag along with duck fat (olive oil or unsalted butter can be used in place of the duck fat).

Using the vacuum sealer, make sure that the duck legs are completely sealed and that any excess air has been removed from the bag.

When the target temperature is reached, carefully place the sealed duck in the water bath making sure that it is completely submerged in the water.

Cook the food until ready.

Once the duck legs have finished cooking, carefully remove it from the water bath. Remove the duck legs from the bag along with the herbs and garlic to a paper towel-lined plate or a sheet tray. Before crisping, thoroughly dry each piece of duck with a paper towel.

Place a sauté pan over high heat and add high-temperature cooking oil and unsalted butter. When the oil begins to lightly smoke, carefully add the duck skin side down along with the garlic and herbs to the pan. Crisp up the duck skin for approximately 1 minute and 30 seconds or until crispy and golden brown. Continuously spoon the aromatic butter over each piece of duck. This adds an extra depth of flavor and smells amazing!

1 tbsp Unsalted Butter, for basting

Serve as desired!
Video