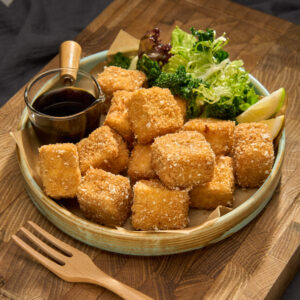 Crispy Tofu Nuggets
Tofu nuggets are the ultimate crispy vegan snack. We love to serve these delicious bites with a side of soy sauce or ponzu.
Equipment
Tongs

Medium Mixing Bowl

Mixing Bowl

Chef Knife

Fine Mesh Kitchen Strainer
Ingredients
For Marinated Tofu
16

oz

Firm Tofu, cut into large cubes

1

tsp

Sesame Oil

2

tsp

Soy Sauce

1

tsp

Garlic Powder

1/8

tsp

Chinese Five Spice Powder

1/8

tsp

Cayenne Powder

1/4

tsp

Kosher Salt

15

turns

Black Pepper, freshly cracked
Wrapped Bread Crumbs for Tofu
2

cup

Panko Bread Crumbs

1/4

cup

Cornstarch

2

each

Large Egg

as needed

Vegetable Oil Spray
Ponzu Sauce For Tofu Nugget(optional):
1

each

Lemon zest

6

tbsp

Lemon Juice

2

tbsp

Mirin

cup

Soy Sauce

0.5

oz

Katsuobushi

2

piece

Kombu
Instructions
Put all ingredients in a bowl, soak for at least 4 hours, and strain through a strainer before using.

Cut the tofu into 1 inch cubes and add to a large mixing bowl.

Add the spices, soy sauce, and sesame oil to the bowl of diced tofu. Gently mix until the tofu is evenly coated.

16 oz Firm Tofu, cut into large cubes,

2 tsp Soy Sauce,

1 tsp Sesame Oil,

1 tsp Garlic Powder,

1/8 tsp Cayenne Powder,

1/4 tsp Kosher Salt,

15 turns Black Pepper, freshly cracked,

1/8 tsp Chinese Five Spice Powder

Place the bread crumbs, corn starch, and beaten eggs in 3 different bowls. Bread the tofu by first dipping it in the flour followed by the beaten eggs, and lastly the seasoned bread crumbs. Lay the breaded tofu on a paper towel-lined plate or tray. Note: We suggest using one hand for dipping in the wet ingredients and the other hand for coating in the dry ingredients.

1/4 cup Cornstarch,

2 each Large Egg,

2 cup Panko Bread Crumbs

Preheat the Typhur Dome to 420°F/215℃. (Around 5 minutes)

Carefully add the breaded tofu to the cooking tray in a single layer making sure not to overcrowd the tray. Lightly spray the tofu with vegetable spray. Return the tray back to the Typhur Dome.

as needed Vegetable Oil Spray

Cook the tofu nuggets.

Temperature: 420 °F Time: 15 minutes

Carefully transfer the tofu nugget to a paper serving tray or plate.

Crispy on the outside and creamy on the inside. We like to save these up with a bit of ponzu or soy sauce.