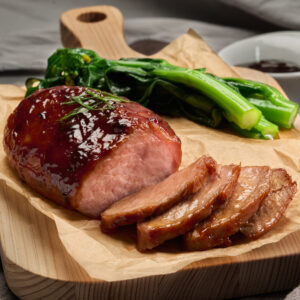 Char Siu Pork
Enjoy the classic flavors of traditional pork char siu in a fraction of the time. This recipe uses pork tenderloin instead of pork shoulder resulting in a super tender piece of pork with all the delicious flavors of the Chinese classic.
Equipment
Bowl

Thermometer

Whisk

Tongs

Medium Mixing Bowl
Ingredients
Char Siu Sauce Recipe
1/4

cup

Hoisin

1/4

cup

Honey

2

tbsp

Brown Sugar

2

tbsp

Dry Sherry

1/2

tsp

Chinese Five Spice Powder

2

tbsp

Soy Sauce

1/4

tsp

White Pepper Powder

2

tbsp

Water

1

tbsp

Rice Wine Vinegar

1/2

tsp

Kosher Salt

Red Food Coloring, optional

as needed
Marinate the Pork Tenderloin
150

each

Pork Tenderloin 4 – 5 Oz. (125g-150g)
Instructions
Combine all of the sauce ingredients in a small sauce pot. Bring the sauce up to a simmer while continuously whisking. Remove from the heat and allow to cool.

1/4 cup Hoisin,

2 tbsp Brown Sugar,

2 tbsp Dry Sherry,

1/2 tsp Chinese Five Spice Powder,

2 tbsp Soy Sauce,

1/4 tsp White Pepper Powder,

2 tbsp Water,

1 tbsp Rice Wine Vinegar,

1/2 tsp Kosher Salt,

1/4 cup Honey

Combine the pork tenderloin with two-thirds of the char siu sauce. Reserve the last third for cooking the pork. Allow the pork to marinate for a minimum of 1 hour and up to 24 hours.

150 each Pork Tenderloin 4 – 5 Oz. (125g-150g)

Preheat the Typhur Dome to 255°F/125°C. (Around 5 minutes)

Using a pair of tongs, carefully add the pork tenderloin to the cooking tray. Return the cooking tray back to the Typhur Dome.

Once the cooking time has passed, using an instant-read thermometer to check the internal temperature of the pork. Once the thermometer reads 140°F, remove the pork from the air fryer. If needed, continue cooking the pork in 5-minute increments.

Temperature: 255 °F Time: 20 minutes

Remove and transfer the pork to a serving dish.

Enjoy this succulent pork with steamed buns or over a bowl of steamed rice.