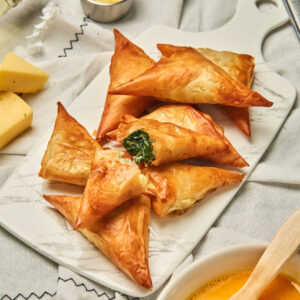 Spanakopita
This simple but delicious Greek classic combines flaky Phyllo dough filled with feta cheese and wilted spinach for an amazing make ahead appetizer.
Equipment
Sauté Pan

Whisk

Mixing Bowl

Spoon

Pastry Brush

Tongs
Ingredients
For the Filling
2

tbsp

Olive Oil

1/2

cup

Shallot or Yellow Onion, finely chopped

2

each

Garlic Clove, finely chopped

10

oz

Baby Spinach

1/2

tsp

Kosher Salt

6

oz

Feta Cheese

1/2

cup

Parmesan Cheese, grated

1

each

Large Egg
For the Pastry
24

sheets

Phyllo Dough, frozen sheets

4

tbsp

Unsalted Butter, melted
Instructions
Heat up the olive oil over medium heat. Start by sautéing the shallots until they start to soften (about 2 minutes). Next, add the garlic and continue to sauté for an additional minute.

2 tbsp Olive Oil,

1/2 cup Shallot or Yellow Onion, finely chopped,

2 each Garlic Clove, finely chopped

Stir the baby spinach into the garlic and shallots. You may have to do this in batches until all of the spinach has been added. Continue to sauté until the spinach has completely wilted, approximately 3 minutes. Season the spinach mixture with kosher salt. Remove from the heat.

10 oz Baby Spinach,

1/2 tsp Kosher Salt

Remove the excess moisture from the spinach by pressing it through a fine mesh strainer or squeezing it into a paper towel or piece of cheesecloth. It's important to remove as much moisture from the spinach as possible in order to keep the phyllo dough crispy.

Combine the spinach with the feta cheese, egg, and parmesan. Mix until well combined. Set aside.

6 oz Feta Cheese,

1 each Large Egg,

1/2 cup Parmesan Cheese, grated

Lay a single sheet of the phyllo dough onto a clean working surface. Lightly brush the dough with melted butter. Place a second sheet of dough over the first and repeat until you have 3 layers of pastry. Cut the layered pastry vertically into 3″ wide strips. Make sure to keep the dough that is not being used, covered with a damp paper towel.

24 sheets Phyllo Dough, frozen sheets,

4 tbsp Unsalted Butter, melted

Place 1 tbsp of filling on one end of the dough strip. Fold one corner of the dough over the filling to make a triangle shape. Fold the strip of dough over itself the same way you'd fold a flag until you reach the end. Pinch the pastry shut.

Preheat the Typhur Dome to 345°F/ 175°C. (Around 5 minutes)

Once the Typhur Dome has reached its target temperature, carefully place the stuffed pastry pieces in the cooking tray seam side down. Return the tray back to the Typhur Dome.

Bake the spanakopita until it is golden brown and crispy.

Temperature: 345 °F Time: 12 minutes

Once the Spanakopita has finished baking, transfer them to a serving plate or tray.

Serve and enjoy!